4 Dooley Court
Mid Island
$333,333
Days on Market:
Bed: 0 Bath: 0
Not listed in LINK. New Sub-division

4 Dooley Court
Mid Island
$666,667
Days on Market:
Bed: 0 Bath: 0
Not listed in LINK. New Sub-division

1 – 3 Miller Lane
Mid Island
$28,899,984
Days on Market:
Bed: 100 Bath: 100+
Main Lobby:
132 seat Restaurant – per special permit
A full commercial kitchen
Administration Offices
An indoor pool/locker rooms
Retail stores
Meeting/Convention Rooms
Fitness Center
Laundry Facility
Elevator Access to lower level
Hotel Rooms:
14 Buildings – 100 Rooms with Full Baths
Staff Housing:
2 Free standing dwellings
Recreational:
Two tennis courts
Exterior pool/ hot tub
Parking: 169 spots

49 Pine Street
Town
$4,025,000
Days on Market: 10
Bed: 6 Bath: 5.5
Situate yourself on the cusp of Nantucket's Downtown Historic District at 49 Pine Street. This well-designed six-bedroom home occupies a corner lot, allowing for ample natural light to engulf the interior spaces. With over 3,500 square feet across three floors, there is no shortage of space to entertain or retreat. Built in 2017, this home offers the exceedingly rare opportunity for ownership of new construction within town.

35 Brewster Road
Monomoy
$2,250,000
Days on Market: 52
Bed: 2 Bath: 1
35 Brewster Road is a hidden gem in the heart of Monomoy located on a quiet dirt road adjacent to the State Forest and within walking distance to Nantucket Harbor. The property has been thoughtfully landscaped with a large yard, patio, multi-zone irrigation, and a garden shed. Just two miles from town, this property combines the best of both worlds with a private oasis while maintaining close proximity to town, shopping and other island conveniences. The lot, just over a half acre, allows for almost 2,000 square feet of ground cover for construction of house, cottage and pool. You can utilize the existing structures or start fresh to realize your Nantucket dream home.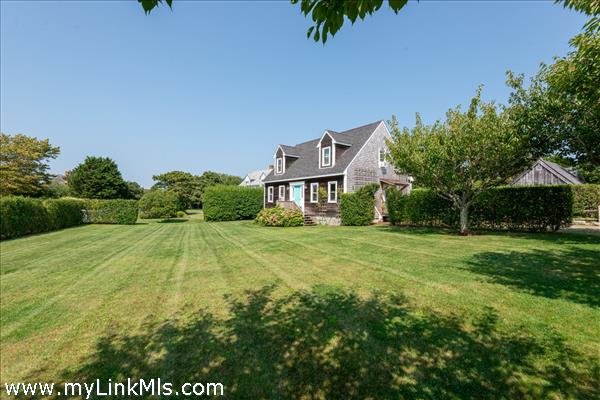 2 Reacher Lane
Miacomet
$1,783,000
Days on Market: 32
Bed: 4 Bath: 3
This delightful four bedroom property is located in the desirable Pine Valley neighborhood in Miacomet close to Miacomet Golf Course.This sun filled location is beautifully landscaped and hedged in offering endless privacy. Located in R 10 L Zoning, the bonus of town water and sewer exists at this seemingly endless .38 acre lot. There is an additional ground coverage of 3,000 square feet which creates endless options. Perhaps do a garage with an apartment above, guest cottage or add on to the existing property. Upgrades in 2013 include a new roof, windows, heating and cooling with mini splits, hardwood floors and an outdoor 100′ shed. The lower level offers tremendous living space equipped with a living area, kitchen area, two additional office sized rooms and a full bathroom. Can readily change with proper window egress to two additional bedrooms. Excellent rental income of $ 30k yearly currently accompanies the basement.Review newly attached renderings for a POOL drawn by well received Mark Lombardi of Heritage Landscapes.The backyard serves as an excellent backdrop for one and pools are in high demand! Walking trail nearby overseen by the Land Bank that extends to Miacomet Beach/ bike paths are nearby for exercise to Cisco and various points on island. Enjoy the enclosed outdoor shower in the privacy of the backyard. Excellent location in a truly lovely neighborhood equidistant to Cisco (think Brewery, Bartlett Farm) Surfside Beach or town for great shopping. The trilogy of a solid investment, great rental history and future buildability is not to be missed.

2 North Road
Sconset
$1,700,000
Days on Market: 20
Bed: 3 Bath: 1.5
Special property tucked away in Sconset. The Merry Minnow is on a large lot with a lot of potential in a quiet and secret part of Sconset. Existing house has 3 bedrooms and 1.5 baths. Ample room for expansion to add main dwelling and treat existing house as secondary dwelling and/or cabana. Property is being sold as-is and no kitchen is presently on site.

2B Longwood Drive
Tom Nevers
$1,310,000
Days on Market: 53
Bed: 0 Bath: 0
This 2.84-acre parcel awaits a new owner's design. Create your private and personal estate.

4 Sheep Commons Lane
Middle Moors
$3,050,000
Days on Market: 65
Bed: 4 Bath: 5.5
This is a great opportunity to live in this private neighborhood convenient to everything. The property consists of a 4 bedrooms, 4.5 bath home with a full finished basement and oversized garage. The floor plan is comfortable with room to spread out in this exceptionally well-built home. The landscaping and gardens are beautiful. Oil heat, central AC, 2 wood-burning FPs, and closed-cell insulation both on exterior walls for R-value, and interior walls for soundproofing. Sheep Commons Lane is a quiet cul-de-sac surrounded by conservation land, close to amenities, bike paths, and walking trails. If Sheep Commons has not been on your radar, it should be.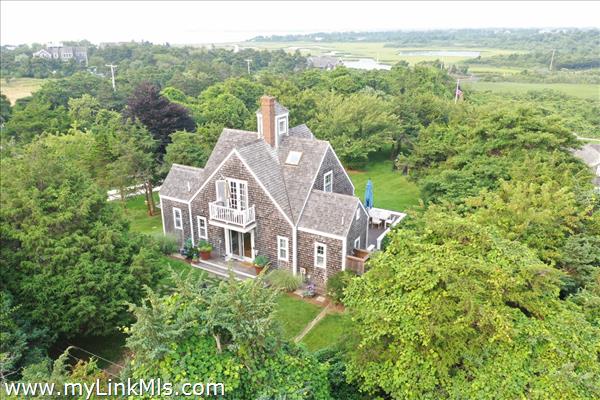 151 Polpis Road
Polpis
$1,950,000
Days on Market: 69
Bed: 2 Bath: 2
Fantastic spot with a newly renovated house perched on top of a knoll overlooking Fulling Mill. Abutting conservation land with a wrap around deck gives the feeling of peace and tranquility. The two bedroom two bath house has many new upgrades including but not limited to a new kitchen, new baths and a/c. Furniture package available upon request.

16 Sesapana Road
Middle Moors
$1,980,000
Days on Market: 5
Bed: 3 Bath: 2.5
In a quiet, well established neighborhood, this single owner home offers three bedrooms, 2 1/2 baths, large open concept living/dining and spillover to outside decks for summer living. The lot is beautifully landscaped with native plantings and would accommodate a swimming pool. Lots of wooded area for privacy. A two car garage, greenhouse and shed provide storage. This is the perfect setting for year round or summer living with close proximity to the Sconset bike path, shopping, and bus service.

32 Hulbert Avenue
Brant Point
$9,100,000
Days on Market: 69
Bed: 0 Bath: 0
This property is one of the last land opportunities on Hulbert Avenue, the premier address in Brant Point, one of Nantucket's most desirable locations. Boasting stunning views of the harbor, this rare half-acre lot affords opportunities for the discerning buyer who wants to create a true compound with multiple dwellings, a pool and outbuildings. Zoning allows for the property to be divided into as many as 4 lots.

8 Aurora Way
Hummock Pond
$2,920,000
Days on Market: 77
Bed: 4 Bath: 5+
Meticulously maintained three bedroom home and a recently finished 750+ square foot one bedroom studio with parking for four cars. Wonderful outdoor space connects the two structures. Integrated Sonos system throughout the house, studio and patio areas. This fantastic Hummock Pond location is halfway between Nantucket Town and South Shore. The convenient bike path leads you to island favorites such as Cisco Beach, Bartlett's Farm, Cisco Brewery, and 167 Seafood.

36 Lyons Lane
Tom Nevers
$1,950,000
Days on Market: 11
Bed: 4 Bath: 3.5
This Tom Never's East property is located on a private 1.8 acre lot. Upside down style 4 bedroom home with one car garage. Huge deck for entertaining.

22 Woodland Drive
Surfside
$1,350,000
Days on Market: 87
Bed: 3 Bath: 2
This 1.5 story Cape Cod style home is tucked away nicely on a 1/2 acre tree lined lot in desirable Surfside. Located in R-20 Zoning there is an additional 1,845 square feet for buildout or make the existing structure into a two story home/ perhaps a garage with a studio above or go all in and add a pool with bluestone hardscape and landscaping.Take advantage of the true privacy this lot offers and enjoy the outdoors. Existing three bedroom septic. This hidden surprise is located at the end of a quiet cul de sac off of Skyline Drive and a mere 1.3 miles to the Atlantic Ocean. Current tenant in possession of a lease that expires on October 31,2021 leaving ample time to get prepared for a new renovational phase. Terrific opportunity for an investment, seasonal property or a year round home. Title V Certificate in hand…recently passed.

76 West Chester Street
Cliff
$4,605,000
Days on Market: 14
Bed: 4 Bath: 3.5
Peaceful and serene, this picturesque home provides ease to Town, Westmoor Club and Tupancy Links. An ideal location, this stunning property abuts over 10 acres of Conservation land. Incredible living spaces, wrap around front porch, first floor bedroom, mature perennial plantings and outdoor living areas with multiple decks. Impressive home with a seamless floorplan makes this the perfect Nantucket retreat!

17 Gardner Street
Town
$4,995,000
Days on Market: 27
Bed: 6 Bath: 5.5
Tucked in undering towering trees and thoughtfully planned mature landscaping, one cannot help but be smitten with 17 Gardner Street. Six generously sized bedrooms, nearly all with en-suites, span two and a half stories and are situated above a finished basement suited for entertainment. Retire to the backyard haven with the oversized deck and lush lawn or entertain in the perfectly appointed living spaces interspersed throughout the first floor. This transcendent home skillfully dances between the excitement of town and the tranquility of a private oasis.

3 North Beach Street
Brant Point
$3,360,000
Days on Market: 137
Bed: 6 Bath: 5
This property offers an amazing location in Brant Point: close to resorts and Nantucket Town's restaurant, boutique and gallery-lined streets. Nearby beaches contribute to why this is such a coveted, high-demand location. Lovingly maintained by a long-time owner, this two-dwelling combination presents a tremendous opportunity for either a spacious family abode, or an income-producing property with several commercial-use options.

27 Cato Lane
South of Town
$1,250,000
Days on Market: 25
Bed: 0 Bath: 0
27 Cato Lane is a beautiful and lush 1/2 acre lot located in a highly desirable neighborhood just south of town. Located in R-20 zoning, the ground coverage equals 12.5% which equivocates to approximately 2,700 square feet on the ground.This premier lot is located on a quiet country lane and with land at a premium represents a solid buy. This treed lined residential neighborhood presents a terrific venue either for year round usage or as an investment property. The gold standard of town water and town sewer is available for tie in. Access for town water tie access is on the same side street/frontage onto Cato Lane.Town Sewer tie in also runs in front on Cato Lane albeit on the opposite side of the street……AND/OR you can tie into town sewer via the rear of the lot abutting Robert's Lane( dirt road) that runs behind the lot! Ten acres of conservation land are nearby which is an added bonus for a permanent visual appeal. Hiawasse Lane is two lots down and the last residential property to sell there was in December, 2020 at $ 2,395,000 to give one an idea of the potential at hand. Property is currently being scheduled to be staked and tagged. Owner prefers a November 1,2021 closing and will cooperate with signage to line up permits for a seamless transition November 1st, 2021.Various buildout scenarios such as a full basement/main house inclusive of first and second floor with a guest cottage or your dream home coexisting with a garage and living space above. In addition,open decks do not take away from the existing footprint and are an excellent way to enhance your outdoor living space. Now is the time for pen to meet paper for rendering your future home.

6 Ackermuck Way
Town
$4,895,000
Days on Market: 0
Bed: 5 Bath: 4.5
Usher in your vision of multigenerational living at 6 Ackermuck, a shining example of high-quality finishes and traditional Nantucket style. Three floors of living space with five generously sized bedrooms between them provide room for the whole family and then some. Come together on the main floor and mingle between the open-concept living, dining, and kitchen area or transition to outdoor living on the oversized screened-in porch. Located near the top of Main on a private street, this home sits on one edge of the .6 acre lot and overlooks an expansive tree-lined lawn where you have the opportunity for further development or to enjoy as-is with an existing shed and fenced-in raised bed garden.

3 Freedom Square # C
Mid Island
$960,000
Days on Market: 188
Bed: 3 Bath: 3.5
This welcoming and light-filled 3 bedroom condo is located a short distance to Town, to the schools, and all mid-island amenities. Conveniently located in the Nantucket Commons Condominums, above quiet office space, occupying the second and third floors you will find this spacious, updated and well-appointed respite offering multiple living spaces, plentiful storage, and views over marshlands.

3 Powderhouse Lane
Town
$2,437,500
Days on Market: 166
Bed: 5 Bath: 4
A unique offering in a special town location! Large lot just under 15,000 square feet close to town in R1 zoning allowing for 30% ground cover on a quiet street offering in town privacy. Front cottage built in 2005 complete with 2 bedrooms, and 2 full baths. Situated on the rear of the lot is a multi-family ranch style home with 2 independent units offering 3 bedrooms and 2 baths total. All units have AC and heat and are in excellent condition. Zoning allows for the potential of a pool.

28 India Street
Town
$4,750,000
Days on Market: 467
Bed: 8 Bath: 4.5
Sitting high above India Street, this Georgian-style home was built in the 1830's for the prosperous whaling Captain David J. Baxter. This stately home exudes the grand elegance of those constructed during the glorious and most prosperous whaling days. These homes are found mostly along our cobbled Main Street, making 28 India a rare exception. The interior boasts high ceilings, spacious rooms (including a first floor living room and double parlor), and many original molding details. Sited on a substantially oversized lot, this property is now priced well for the buyer interested in restoring history to accommodate modern and stylish amenities.

4 Mioxes Way
Cisco
$1,725,000
Days on Market: 18
Bed: 4 Bath: 2
Fleeting opportunity for ownership in the coveted Bartlett Farm area of Nantucket Island. This almost 1/2 acre lot allows for 50% ground coverage, has access to Town water, and comes with a current 6-bedroom septic design. A cape-style home with 4-bedrooms, 2 full bathrooms, mudroom and a 2-car garage is currently sited on the property. Put your personal touches on the home and enjoy it as-is, or, donate the structure and remove it from the site to make way for your 6-bedroom dream home. Zoning allows for a house, cottage and pool.

8 Grand Avenue
Sconset
$2,050,000
Days on Market: 873
Bed: 2 Bath: 2
MUST SEE TO FULLY APPRECIATE ALL THAT AWAITS ONE INSIDE THIS MAGICAL, RAMBLING COTTAGE WITH SOARING CEILINGS … OCEAN VIEWS AND PRIVACY, IN THE HEART OF 'SCONSET VILLAGE. Surrounded by mature privet hedge that help create a world of one's one, this historic two bedroom cottage evokes charm and character. Perhaps one of the most enchanting AND unique generously-sized cottages on Nantucket. YAWL offers today's buyer the most romantic, magical escape from everyday life. Enjoy your seaside gardens, breathtaking ocean views, cathedraled great room with stunning fireplace for those breezy evenings, and the beach, market, restaurants, and wine shop are moments away. Expansion potential if desired. JUST IMAGINE …

Contact us for more information.