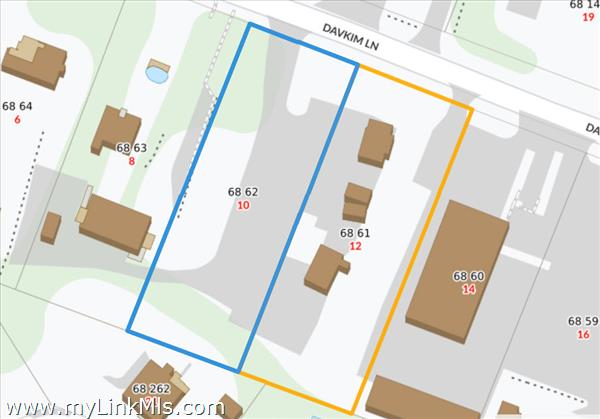 10 & 12 Davkim Lane
Mid Island
$2,065,000
Days on Market:
Bed: 0 Bath: 0
Not listed in LINK.

40 Old South Road
Mid Island
$875,000
Days on Market:
Bed: 0 Bath: 0
Not listed in LINK. New n-divisio

27 Beach Grass Road
Mid Island
$345,000
Days on Market:
Bed: 0 Bath: 0
Not listed in LINK.

6 Finback Lane
Miacomet
$3,000,000
Days on Market: 0
Bed: 5 Bath: 5.5
This exquisitely designed five-bedroom property was newly constructed in 2017. Fabulous outdoor space, furnished with gorgeous patio seating, including a large dining table and chairs and Adirondack chairs. The property is part of the Finback Community and has access to a shared pool. The property is in close proximity to South Shore Beaches, Bartlett Farm, multiple bike paths, and Miacomet Golf Course.

14 Aurora Way
Hummock Pond
$825,000
Days on Market: 18
Bed: 0 Bath: 0
Nice buildable lot in well developed vacation neighborhood. In the Hummock Pond/Cisco area of Nantucket this property is approx 1.5 miles to Town and 2.5 to Cisco Beach. Not far from Bartlett Farm, 167 Hummock Seafood, Cisco Brewery and Boatyard Farm this property has access to Hummock Pond Road Bike Path. Build Nantucket Dream home in this highly sought after location. Cluster Subdivision regulations apply, allowable ground cover is 50% Front yard Setback it 15′ Side and Rear 5′

25 Beach Grass Road (Lot 57)
Mid Island
$345,000
Days on Market: 0
Bed: 0 Bath: 0
Welcome to Sandpiper Place, Nantucket's newest community of homes. Carefully planned with open space, community garden, nearby amenities and a lovely street-scape with parking off-street and out of view. 25 Beach Grass Road (Lot 57) is a single-family lot allowing up to 4 bedrooms. Arrange for a private tour of the grounds, a look at homes that are nearing completion, and a glimpse into what the future holds for this up-and-coming neighborhood. Representatives are available for consultation on the building process, pricing, and financing options to make your home-buying and building experience a success.

23 Broad Street
Town
$7,888,000
Days on Market: 0
Bed: 9 Bath: 2+
23 Broad Street is a commercial building in the old historic district of Nantucket. The lower level of the building was formerly operated as the 'Brotherhood of Thieves' restaurant and bar. The cozy iconic gathering place was originally established in 1972 and was reminiscent of an 1840's whaling bar. The Brotherhood was recognized as a well established gathering place for locals and tourists for many years. Nine residential rooms on the third and fourth floor were used as employee housing. There are two parking places and a loading zone.

25C Washington Street
Town
$2,410,000
Days on Market: 6
Bed: 3 Bath: 2.5
Beautifully designed 3 plus bedroom home in downtown Nantucket with harbor views, and moments to Main Street. This home was built in 2003 and thoughtfully designed with a contemporary flair. The 1st floor has an open kitchen/dining area with a wood burning fireplace. On the street side there is a separate TV room. At the back there is a wonderful 3 season room that opens to the outdoors with floor to ceiling glass behind barn doors which open to the patio. This outdoor area is private and has a great harbor view. A must see to appreciate. Excellent rental income history on this property.

5 Sandy Drive
Brant Point
$5,995,000
Days on Market: 17
Bed: 3 Bath: 3.5
This oversized lot is located on one of the most highly sought-after streets in desirable Brant Point. The property is 15,419 sq ft in 5,000 sq ft zoning, which offers many possibilities.

1 Sandy Drive
Brant Point
$3,595,000
Days on Market: 17
Bed: 0 Bath: 0
Located on the corner of Hulbert Avenue and Sandy Drive, this oversized lot lends a tremendous opportunity for the right buyer to build their dream Nantucket home. In an excellent location close to north shore beaches and the historic town of Nantucket, with views of Nantucket Harbor.

67 Bartlett Road
Miacomet
$2,000,000
Days on Market: 42
Bed: 2 Bath: 1.5
Freestanding, commercial warehouse with high ceiling clearance, off-street parking, loading areas, and strong rental history. There is a full concrete apron in the front of the building. The structure and location is ideal for a broad array of commercial, maritime, warehouse or contractor uses. In the lower level is finished shop space with large exterior access from the back of the building as well as interior access. The second floor is a well appointed apartment with hardwood floors, 2 bedrooms and an office.

4B Marble Way
Miacomet
$800,000
Days on Market: 42
Bed: 0 Bath: 0
9,145sf lot in CTEC zoning allows 40% ground cover and a variety of commercial and residential uses. The convenient location provides easy access to town, mid island, schools, Miacomet Golf, and the south shore. Town water and sewer are available at Bartlett Road.

18 Dukes Road
West of Town
$3,200,000
Days on Market: 28
Bed: 3 Bath: 3.5
This light and bright home situated at a high elevation on the property is only moments to town and has mature landscaping and gardens that give it the feeling of seclusion and privacy. This home was thoughtfully designed to take advantage of its setting. The deck on the southwest side of the house with adjacent patio is drenched in sunlight throughout the day and is the ideal spot to enjoy stunning sunsets. A second patio to the back of the property provides additional outdoor dining or entertaining space and opens onto the large backyard which is immaculately landscaped with mature tree growth. With 800 square feet of ground cover remaining there are many expansion opportunities available, including connecting to town sewer.

6A Stone Barn
Brant Point
$1,190,000
Days on Market: 20
Bed: 1 Bath: 1
Brant Point Beauty! Easy living in this one level newly remodeled one bedroom cottage. Located in Brant Point on a quiet cobblestone cul-de-sac, an easy walk to Town, Brant Point, Cliff, Galley & Jetties Beach. Featuring an open living, dining and kitchen area. Cathedral ceilings and skylights give the room an airy feel with lots of light. The living area opens onto a private brick patio with outdoor shower. Includes two parking places Adjacent to foyer is bedroom with good storage, bath and laundry area. Owner unable to close until July 2021.

76 Pleasant Street
Town
$965,000
Days on Market: 67
Bed: 3 Bath: 1
Edge of town ~ oversized lot with plenty of potential. The property is tied into town water and town sewer in 40% ground cover zoning. Renovate the existing historic cottage and use in time for summer. Build a new primary dwelling or expand on the existing cottage when the time is right. The cottage is being sold 'as-is'.

39 Macys Lane
Mid Island
$1,195,000
Days on Market: 137
Bed: 4 Bath: 4
Perfect opportunity to own a 4 bedroom 2600 +/- square foot house with full finished basement (consisting of 3 room and a full bathroom) and 1799 +/- of ground cover left to expand. Great space for a future garage, workshop or cottage. Please refer to floor plans for layout/space of the 1st & 2nd floors.

60 Cliff Road
Cliff
$4,450,000
Days on Market: 221
Bed: 6 Bath: 4.5
Prominently located, this well maintained six bedroom, four and a half bath home with attached studio and garage is set back off Cliff Road offering easy access to Steps Beach, the Westmoor Club and town. The spacious first floor contains a beautifully renovated chef's kitchen and multiple light, bright living areas that flow seamlessly to the private back yard. The well laid out floor plan offers privacy and comfortable living for family and friends.

10 Gay Street
Town
$2,900,000
Days on Market: 300
Bed: 10 Bath: 9.5
Dreaming of owning a B&B on Nantucket Island…wait no longer! The Sherburne Inn is currently being run as one of the top ranked B&Bs on the Island, but opportunity awaits a buyer who wants to turn it into a beautiful private residence. Perfectly located on a peaceful side street in Nantucket's downtown historic district. The Sherburne Inn is rich with history. Dating back to 1835, it was originally built as the headquarters for the Atlantic Silk company. Pride of ownership is evident throughout in respecting the historic details but offering modern amenities. The guest house features eight unique bright and airy guest rooms, each with private bath and central air. Guests also have access to two parlor rooms and ample outdoor seating. The innkeepers quarters are located in the bottom of the guest house, and feature an apartment with bath, large kitchen and additional space for staff. One car garage and 2 off street parking spots. Full financials available upon signing of an NDA.

17 Ranger Road
Dionis
$3,650,000
Days on Market: 246
Bed: 5 Bath: 4.5
AVAILABLE FOR THE SUMMER….Privacy and views overlooking Nantucket Sound on 2.1 acres with 180 degree views of protected moors, ocean views and fabulous sunsets. There is a both Conservation and Town of Nantucket land next door for added view protection, 20+ acres. The property includes and an immaculate and well maintained post and beam home. Exceptional privacy within close proximity to Dionis beach access. This large property has multiple options for expansion, addition of pool, or tennis court. 4 bedroom, 3.5 bathrooms in main house plus a garage apartment. A walking trail meanders throughout the entire 2 acres with views over conservation land and out to Nantucket Sound. Remaining GC of 449 SF added to existing Garage/Apt of 856 SF and use that 1,300 SF for future expansion.

45 Shawkemo Road
Shawkemo
$5,000,000
Days on Market: 568
Bed: 0 Bath: 0
Exceptional and one of a kind estate properties on ten acres with commanding views of Nantucket Harbor, Nantucket Sound, and Conservation Lands. This very private property is perhaps the finest large water view sites with stunning sunrise and sunset views and abounds with beautiful contours and vegetation.

Contact us for more information.