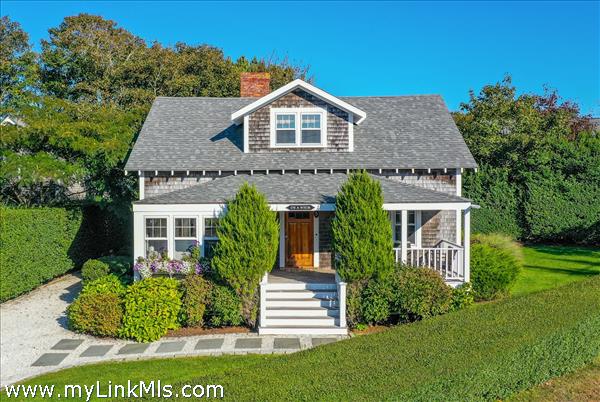 5 New Lane
Town
$2,195,000
Price Change
Days on Market: 31
Bed: 3 Bath: 2+
Beautiful renovation of a 1940's bungalow style home. Located one block from the top of main street, this 3 bedroom home is an easy walk to the center of the Historic District. There is excellent custom mill work throughout, top of the line appliances & central AC. SOLD FURNISHED, except for personal items. Strong rental history. Leases in place for 2020. Seller may exercise a 1031 sale on said property.
Great Point Properties
58 & 60 Walsh Street
Brant Point
$6,400,000
Off Market
Days on Market: 49
Bed: 4 Bath: 3
Well maintained and updated 4 Bedroom beach house with a large yard in the heart of Brant Point. Enjoy carefree living just moments to Town and Jetties Beach where there is tennis and sailing -finish your day with a sunset dinner at the Galley Restaurant. Sitting tall and newly refurnished in 2019, this home has 3 levels of finished living space plus a roof walk offering spectacular water views where you can see the ferries come and go and have a 'front row' view of the fireworks during the Pops & 4th of July. Comprised of two separate lots, the 14,000+ sf property offers significant expansion opportunities to create an exceptional retreat with ample room for the addition of a main house or cottage and pool. With nearby harbor access, this is simply one of the best locations to enjoy all that Nantucket summers have to offer on island time!
Maury People Sotheby's International Realty
60 Walsh Street
Brant Point
$4,500,000
P & S
Days on Market: 50
Bed: 4 Bath: 3
Well maintained and updated 4 Bedroom beach house with a large yard in the heart of Brant Point. Enjoy carefree living just moments to Town and Jetties Beach where there is tennis and sailing -finish your day with a sunset dinner at the Galley Restaurant. Sitting tall and newly refurnished in 2019, this home has 3 levels of finished living space plus a roof walk offering spectacular water views where you can see the ferries come and go and have a 'front row' view of the fireworks during the Pops & 4th of July. The 9,000+ sf lot offers significant expansion potential for the addition of a cottage and a pool. Additionally the adjacent vacant 5,000 sf lot will be available for purchase for $2,100,000 allowing the unique opportunity to have 14,000 sf estate lot. With nearby harbor access, this is simply one of the best locations to enjoy all that Nantucket summers have to offer on island time!
Maury People Sotheby's International Realty
251 Hummock Pond Road
Cisco
$5,495,000
Off Market
Days on Market: 85
Bed: 3 Bath: 3.5
Surf's up in Cisco! This is the place to let loose, unwind and have fun! This quintessential beach house has a Happy Vibe! It is being sold fully furnished and turn-key. With a well-established rental history, you can use the weeks you desire and rent the others. First floor views of Cisco Beach. Hear and feel the ocean breezes. Incredible second floor views of the Head of Hummock Pond to the west. Enjoy the serenity of magnificent sunsets. Beautifully lush lawn and gardens surround the house. Large shell driveway allows for easy entertaining. Rear and side decks are perfect for relaxation, cookouts and cocktails parties.
Berkshire Hathaway HomeServices Island Properties
46B Skyline Drive
Surfside
$329,000
Price Change
Days on Market: 97
Bed: 0 Bath: 0
20,000 square foot Covenant lot in Surfside! Build (or move) your home on this private lot.
Congdon & Coleman Real Estate
46A Skyline Drive
Surfside
$729,000
Price Change
Days on Market: 97
Bed: 0 Bath: 0
Take advantage of this rare opportunity to own a market-rate 1.5-acre vacant lot for less than $800,000! Build the house of your dreams and add a pool and cottage for your family, guests or for rental income. Call your broker to schedule a viewing.
Congdon & Coleman Real Estate
25 Pocomo Road/ 6 Lauretta Lane
Pocomo
$13,900,000
P & S
Days on Market: 104
Bed: 8 Bath: 8+
This is a spectacular and unique waterfront offering. The property is comprised of two lots with a meandering path to the sandy beach with mooring access on nine acres with over 500 feet of beachfront. The private, winding driveway leads you to a main house, guesthouse, three-car garage, pool, spa, additional cottage and artist's studio. The compound captures panoramic views from every structure of Nantucket harbor, Coatue with dramatic sunsets.. This beautiful Botticelli & Pohl designed property spans over 8000 square feet of living space yet still allows for significant ground cover expansion. This luxury property offers everything one could want in a family compound.
Lee Real Estate
25 Pocomo Road/ 6 Lauretta Lane
Pocomo
$13,900,000
Offer to Purchase
Days on Market: 104
Bed: 8 Bath: 8+
This is a spectacular and unique waterfront offering. The property is comprised of two lots with a meandering path to the sandy beach with mooring access on nine acres with over 500 feet of beachfront. The private, winding driveway leads you to a main house, guesthouse, three-car garage, pool, spa, additional cottage and artist's studio. The compound captures panoramic views from every structure of Nantucket harbor, Coatue with dramatic sunsets.. This beautiful Botticelli & Pohl designed property spans over 8000 square feet of living space yet still allows for significant ground cover expansion. This luxury property offers everything one could want in a family compound.
Lee Real Estate
3 Pleasant Street
Town
$3,095,000
P & S
Days on Market: 98
Bed: 4 Bath: 3+
A meticulously maintained 19th century antique in the heart of downtown Nantucket. This four bedroom, three plus bathroom house offers a generous sized yard and two off-street parking spots just steps from Main Street. If only the walls could talk, the property seeps with history. The historical elements have been preserved and maintained in order to keep the authenticity of the original structure. Some of the various maintained items include: new roof, rebuilt chimney, new partial foundation, Mahogany window sashes, restructured living room ceiling. There have also been numerous upgrades made over the years including the installation of central air and heat. This property is looking for the next steward to continue its legacy.
Maury People Sotheby's International Realty
7 Swain Street & 4 East Lincoln Avenue
Brant Point
$5,790,000
Off Market
Days on Market: 107
Bed: 6 Bath: 5.5
Swain Street is a new custom built home in desirable Brant Point offers a light and bright open floor plan with gourmet kitchen, dining and living room with a wood burning fireplace. Glass doors off the living room and a first floor guest suite open onto a spacious back deck with room for dining and lounging. The house features multiple living spaces inside and out. The second floor has a large family room with built in cabinetry, a master bedroom suite with walk in closet, custom built double dresser and private bath with double vanities and oversized tiled shower. Two additional guest room share a full bath. A ships ladder provides access to the loft with built in daybeds and stairs to the oversized Roof Walk with views of Nantucket Harbor and Sound. Located in the heart of Brant Point, this property is in close proximity to Town, Children's Beach and Jetties Beach. 4 East Lincoln with garage and 1 bedroom apartment. Room for expansion and or the addition of a pool. Both properties can be purchased separately.
Lee Real Estate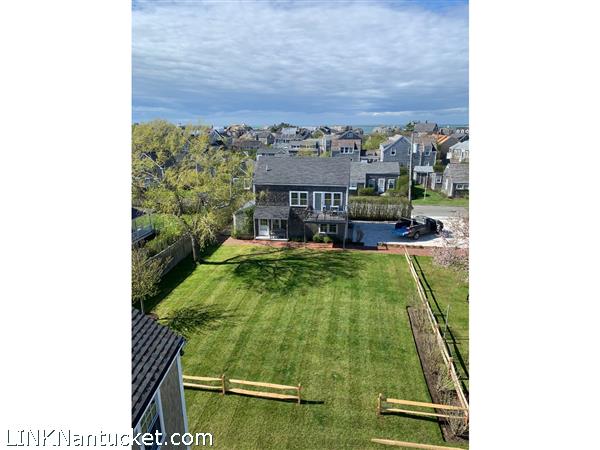 4 East Lincoln Avenue
Brant Point
$1,895,000
Off Market
Days on Market: 109
Bed: 1 Bath: 1
Oversized lot in Brant Point with existing 1 car garage with 1 bedroom/1 bath apartment. The property can support approximately 1700 square feet of ground cover providing many options for expansion of the existing structure or the addition of a main house. Abutting property on 7 swain street is also listed for sale; buy both and create your own compound.
Lee Real Estate
1 Sandplain Drive
Mid Island
$350,000
P & S
Days on Market: 116
Bed: 0 Bath: 0
Quality living within reach, and a cornerstone of the island's economic future, this property is located in Nantucket's newest development, Sandpiper Place. Conveniently located in the mid-island area, this property is close to nearby amenities yet tucked away in the development, offering a sense of community. This property allows for single-family construction with a total of four bedrooms. Get started building your future today.
Fisher Real Estate
45 Autopscot Circle # 45
Nashaquisset
$1,565,000
P & S
Days on Market: 127
Bed: 5 Bath: 3.5
This rarely found five bedroom home has three levels of living space and is located in the white picket fence, family friendly neighborhood of Nashaquisset. A true gem with a fabulous floor plan and a sanctuary of a back yard, perfect for enjoying summer days. This property has an excellent and successful rental history, making it a great Nantucket investment. Nashaquisset is known for its convenient location just moments from downtown Nantucket, and has the added benefit of the nearby Surfside bike path offering easy access to south shore beaches and all mid island conveniences. Nashaquisset also offers all owners and guests use of a community pool and two tennis courts.
Great Point Properties
45 Autopscot Circle # 45
Nashaquisset
$1,565,000
Offer to Purchase
Days on Market: 127
Bed: 5 Bath: 3.5
This rarely found five bedroom home has three levels of living space and is located in the white picket fence, family friendly neighborhood of Nashaquisset. A true gem with a fabulous floor plan and a sanctuary of a back yard, perfect for enjoying summer days. This property has an excellent and successful rental history, making it a great Nantucket investment. Nashaquisset is known for its convenient location just moments from downtown Nantucket, and has the added benefit of the nearby Surfside bike path offering easy access to south shore beaches and all mid island conveniences. Nashaquisset also offers all owners and guests use of a community pool and two tennis courts.
Great Point Properties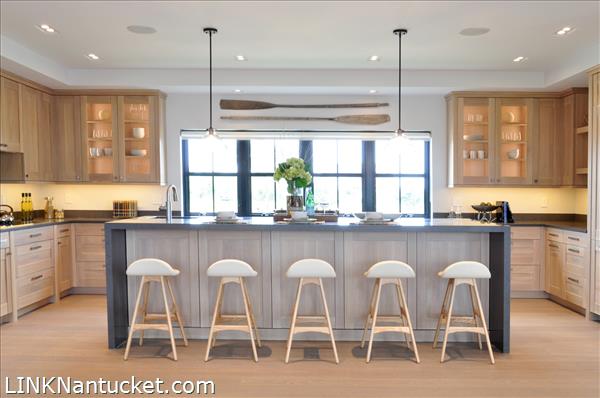 10 Eat Fire Spring Road
Wauwinet
$6,490,000
Price Change
Days on Market: 143
Bed: 7 Bath: 6+
NOTE: $50,000. buyer agency incentive (above the existing compensation) if offer is accepted prior to 11/30/19. New, FIVE-year 'Choice' Home Warranty currently in-place for seller, transfers to buyer at closing. See 'documents' or contact listing agent for more info. The name of this area of Nantucket, Wauwinet, just might mean "the place where peace, privacy, sunrises & sunsets rule" because that's exactly what life is like at this hidden gem. Quieter than 'Sconset, the strategic location of this 21st-century temple to technology takes advantage of its unique position. Its 3-acre lot, with trees deliberately set-back to maximize the vistas & allows daily, spectacular cinemascope photo opportunities for sunrises and sunsets so often that you almost take them for granted…but you don't…because you're thankful value nature and its beauty. You will find yourself setting your alarm for odd hours of the early morning to see the sky at its darkest to marvel at the stars, or to catch sunrise from "poolside" or from the roof's widow's walk. Same with sunsets, too. Watching & recording sunrises and sunsets will become your new passion, if it isn't already. And your friends will look forward to your next Facebook post of the latest photos of what you see every day, and every night. Noise from neighbors' landscapers, long a nuisance in other parts of the island, are not a factor at this site thanks to its distance from neighbors and "insulation overkill" construction. As for the house itself, the state-of-the-art features of this home are designed to liberate you from the toil of home maintenance allowing you maximum time to enjoy the home rather than enslaved to it. Worry-free geothermal heating & A/C means: no unsightly, noisy, & hot A/C compressors surrounding the perimeter of the home disturbing everyone's sleep. Its ease-of-use is best understood by visiting the home and experiencing for yourself. Very.User.Friendly. And electric bills virtually become a thing of the past thanks to the home's efficient solar panels which capture…and store…power, making you the envy of neighbors. This is one of those homes that needs to be experienced in-person to fully-appreciate its many features and what it offers to its next lucky owner. Once you're there, it will be love at first sight.
Lamacchia Realty Inc
37 Autopscot Circle # 37
Nashaquisset
$1,635,000
P & S
Days on Market: 151
Bed: 3 Bath: 3.5
Step inside this beautifully renovated 'Main Street' Nashaquisset gem and make yourself at home. Sited on one of the largest lots in the neighborhood, the impeccable three full floors of living space feature three bedrooms (Including a gorgeous first floor Master Suite), private fully finished third floor living quarters, two dining areas, a light filled sunroom and a central great room with cathedral ceiling and wood burning fireplace and CENTRAL A/C throughout. The back lawn is an expansive private oasis with a brick patio, outdoor shower and storage shed. Cooperative fees include use of community swimming pool and 2 Har Tru Tennis Courts. There is a fantastic rental history here. This sophisticated, contemporary home is a MUST SEE!
Lee Real Estate
14 Hydrangea Lane
Sconset
$2,345,000
Price Change
Days on Market: 169
Bed: 3 Bath: 3.5
Well crafted new construction in Sconset. Thoughtfully designed and executed by Bessey Construction, one of Nantucket's premier builders. A formal entry opens into a large flexible living and dining space. This can be configured in a variety of ways to suit many tastes. From here a sliding barn door leads to a mud room and large utility room with lots of storage. There is a second entrance from the front porch here as well as a powder room. The kitchen is open and bright and outfitted with top of the line appliances. There is interesting tile work, lots of counter space, storage, and a center island with seating.
At the top of the stair is a library with built in cabinetry, and a space excellent for a small office area. The two bedrooms are spacious, command great views out over Sconset and each have an en suite bath. The master bath is beautiful and again shows a clever design aesthetic with the use of glass and patterned tile.
Maury People Sotheby's International Realty
37 York Street
Town
$2,345,000
P & S
Days on Market: 129
Bed: 5 Bath: 3.5
Five Bedroom home with off street parking and large private back yard in the Residential Old Historic District near the Windmill. Enjoy the charm and details of the updated circa 1920's 3 bedroom antique integrated with the modern amenities of a two level, two bedroom addition designed by Mark Cutone and constructed by Steve Cheney. The property borders land owned by the Nantucket Historical Association where there is a path leading to the historic Windmill.
Maury People Sotheby's International Realty
41 Quidnet Road
Quidnet
$5,800,000
Off Market
Days on Market: 198
Bed: 4 Bath: 5+
This special property is located a moment's walk to Quidnet Village and is set behind high hedges. The property was masterfully renovated and significantly expanded in 2008 resulting in a modern day open floor plan with timeless details that flawlessly blend classic and new into a home that embraces a quintessential island style. Perhaps the most notable design feature is nearly all rooms flow onto a wonderfully inviting manicured and fenced-in lawn and gardens which are a prominent feature of this property and include a beautiful pergola covered terrace, rolling lawns, a covered terrace off the kitchen and a fantastic outdoor fireplace that's ideal for evening gatherings. This is a home designed to invite family and friends to come together and enjoy island living at its best. (additional features include a whole house generator and a Savant home automation system).
Great Point Properties
1R Old North Wharf
Town
$1,995,000
Off Market
Days on Market: 229
Bed: 1 Bath: 1.5
Great storefront visibility with frontage on both Easy Street and Old North Wharf. Approximately 650 square feet of first floor retail space and kitchen and living quarters. Great rental history with excellent tenant in place thru December 2019.
Maury People Sotheby's International Realty
3 West Chester Street
Town
$3,200,000
Off Market
Days on Market: 189
Bed: 7 Bath: 6+
Artfully updated Federal home with modern amenities and fabulous back cottage in one of the best locations in Town, convenient to Brant Point and Cliff beaches and many restaurants. The main house combines original historic elements with modern amenities and exceptional decorative details, with a stunning custom kitchen, beautifully tiled baths, exquisite woodwork. The completely rebuilt and expanded 2-story cottage is tucked up the hill above the terraced gardens, a perfect retreat in the heart of the Town and Cliff. This unique property offers many options for extended family and entertaining, including established rental history with approx $140,000 gross revenue in 2018 and solid leases in place for the 2019 season. **Watercolor courtesy of Ellie Gottwald @FrontPorchStudioAck
Maury People Sotheby's International Realty
12 Pequot Street
Surfside
$2,895,000
Price Change
Days on Market: 298
Bed: 3 Bath: 3+
Quintessential Nantucket beach house, under 150 yards to Fisherman's Beach, one of Nantucket finest South Shore Beaches. This well planned home has an open floor plan with three bedrooms, three full and two half baths, offering stylish and functional living spaces with plenty of room for family and friends to gather. The outdoor space includes a large covered porch, a storage shed, a spacious bluestone patio opening to a well manicured lawn. Strong rental history and room for expansion. Features include; Gourmet kitchen with top of the line appliances, Open floor plan, Masonry brick fireplace, Widows walk, Reclaimed hardwood pine flooring, Central AC, Wainscoting, Custom tile, Irrigation system, Alarm system, Beautiful landscaping and Outdoor shower.
J Pepper Frazier Co.
74 Center Street # 6
Town
$1,395,000
P & S
Days on Market: 335
Bed: 2 Bath: 1
Lily Pad located in the core of town on one of Nantucket most idyllic streets, is a luxe cottage, with every amenity, including it's own private driveway and backyard. The cottage of the circa 1785 Captain Gardner House is fresh from a total reconstruction during which the floor plan was thoughtfully re-designed to include every amenity by Nantucket Emeritus Architecture & Elisa Allen. Lily Pad is offered turnkey; fully furnished and beautifully appointed – ready for your immediate enjoyment. Fabulous vacation home, ideal rental property, or a combination of both. Don't miss this unique opportunity.
Maury People Sotheby's International Realty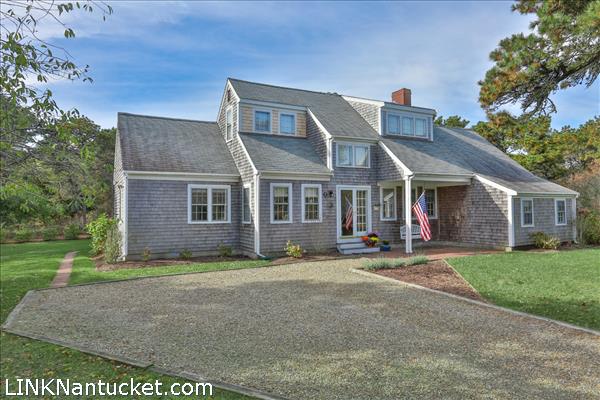 11 Sesapana Road
Middle Moors
$1,275,000
P & S
Days on Market: 350
Bed: 3 Bath: 3
Nestled in a quiet neighborhood moments from the Milestone bike path, this home offers a serene setting for both year round and summer living. Set back off the road with wonderful curb appeal, the home is complimented by an expansive back deck which overlooks the private and manicured back yard.
Great Point Properties
17 Milk Street
Town
$1,795,000
Off Market
Days on Market: 372
Bed: 3 Bath: 2
Storybook cottage with parking, beautifully landscaped outdoor space, first floor master bedroom, all new heat and air-conditioning system and wonderful living spaces – all within close walking distance to Main Street. A true gem, which has been lovingly renovated inside and out, in keeping with it's 1930's historic charm.
Maury People Sotheby's International Realty
46 Center Street
Town
$7,200,000
Off Market
Days on Market: 162
Bed: 4 Bath: 2.5
One of the most recognizable buildings on Center Street, this historic building is sited on the corner of Center and Quince St. This historic building has over sized windows facing on the front of the building, 1600 Sq. feet of commercial retail space on the first floor. One apartment on the second and third floor. First floor is tenant occupied until 12/20. This is a unique and rare investment opportunity.
Maury People Sotheby's International Realty
16 Eat Fire Spring Road
Quidnet
$1,750,000
Price Change
Days on Market: 386
Bed: 3 Bath: 3.5
This lovely home is set on a small rise in the Quidnet/Wauwinet area on just over 3 acres. Taking advantage of pastoral and harbor views in the area, this 'upside-down' home is spacious and has plenty of room for indoor and outdoor living.
Denby Real Estate
19 Broadway
Sconset
$1,125,000
P & S
Days on Market: 391
Bed: 4 Bath: 2.5
Quintessential Sconset cottage nestled on picturesque Broadway in the heart of the Village. With second floor views of the Atlantic Ocean, this charming cottage offers cathedral ceilings, large living areas, 4 bedrooms plus a loft and 2.5 baths, and a wood burning fireplace and a hedge-ensconced private patio perfect for outdoor dining. The cottage allows for wonderful entertaining in all seasons. Just a short walk to the beach, village, restaurants, 'Sconset Casino and a stroll thru this historic and charming whaling village. Excellent rental history.
Maury People Sotheby's International Realty
81 Orange Street
Town
$3,398,000
Off Market
Days on Market: 415
Bed: 6 Bath: 4.5
Antique home on Orange Street has been carefully & tastefully updated and expanded to blend old world charm and modern conveniences in perfect harmony. Marvel at the Antique details throughout including original doors, antique pine flooring, tin ceiling & countless other details. Custom craftsmanship. a bright & beautiful gourmet kitchen, sun lit parlor & formal dining room w/fireplace. 6 bedrooms, central air, large brick patio, landscaped yard with gardens make this the perfect Nantucket family home. Ideally located near Great Harbor Yacht Club and a few blocks to center of town. Strong Rental History
Shepherd Real Estate
20 Field Avenue
Surfside
$2,550,000
Return To Market
Days on Market: 416
Bed: 6 Bath: 4+
Private one acre estate property nestled in the pines of Surfside offers a recently updated 4 bedroom main house plus a two bedroom cottage. Recent upgrades to main house included kitchen and baths, paint, horizontal wood paneling, gas fireplace, hardware, doors, and much more. Both dwellings have lovely yards with mature landscaping, creating a nice division of space and privacy from one another or the ability to combine and live nicely as one estate. Ample room for a pool. Abutting 23 acres of land with walking trails to the Atlantic ocean. An excellent opportunity for rental income. Summer rentals estimated at 100k a season. A tranquil and unique escape so near to the beach!
Maury People Sotheby's International Realty
6 Dovekie Court
Naushop
$1,395,000
Offer to Purchase
Days on Market: 328
Bed: 5 Bath: 3.5
Spacious and well built, five bedroom colonial, with three floors of living and over 3,700 sq. ft. Open first floor with separate living rooms, powder room, and first floor master bedroom with full bath, with doors out to a private deck and back yard. Second floor master suite with three additional bedrooms and full bath. Finished third floor offers many possible uses. Privately tucked back in the corner of the cul-de-sac, with plenty of off street parking. Homeowners can also enjoy Naushop's community pool, tennis and clubhouse.
William Raveis Nantucket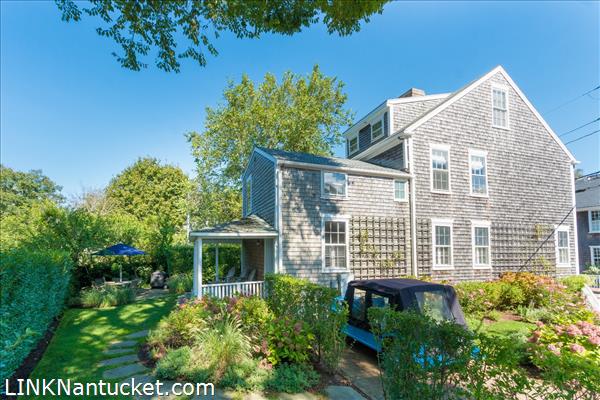 17 Pine Street
Town
$2,895,000
Off Market
Days on Market: 453
Bed: 4 Bath: 4.5
This carefully created residence contains both the traditional infrastructure of our historic past, yet resembles the craftsmanship of a modern establishment. Just a few feet from Main Street, this wonderfully updated Pine Street home has the framework to illustrate the configuration of an original 1830s Nantucket masterpiece. Some eye-opening details such as original wide plank pine wood floors, clean and intimate bathrooms, displaying the old-but new finished look. Newly finished floors and freshly painted sharp white walls provides an atmosphere of a luxurious space. Three floors of historical charm with four bedrooms, four baths, dining room, and several living rooms, creates a vibrant playground for gathering with family and friends. In addition, the private fenced in yard contains a rear porch and patio, outdoor shower, and garden.
Nantucket Realty Advisors
7 Swain Street
Brant Point
$3,795,000
Off Market
Days on Market: 445
Bed: 4 Bath: 3.5
Oversized lot with new custom built home in desirable Brant Point offers a light and bright open floor plan with gourmet kitchen, dining and living room with a wood burning fireplace. Glass doors off the living room and a first floor guest suite open onto a spacious back deck with room for dining and lounging. The house features multiple living spaces inside and out. The second floor has a large family room with built in cabinetry, a master bedroom suite with walk in closet, custom built double dresser and private bath with double vanities and oversized tiled shower. Two additional guest room share a full bath. A ships ladder provides access to the loft with built in daybeds and stairs to the oversized Roof Walk with views of Nantucket Harbor and Sound. Located in the heart of Brant Point, this property is in close proximity to Town, Children's Beach and Jetties Beach. Abutting property at 4 East Lincoln with garage and 1 bedroom apartment is also for sale for $1,895,000. Purchase both for an incredible oversized compound with access off East Lincoln and Swain St.
Lee Real Estate
51 Starbuck Road
Madaket
$1,995,000
P & S
Days on Market: 456
Bed: 4 Bath: 3.5
Madaket Magic! Full renovation just completed. This large open floor plan incorporates living room, dining area, state of the art kitchen, fireplace with cathedral ceilings, and sliding doors that look out over Long Pond and the Atlantic Ocean. The master bedroom with ensuite bath captures the expansive views as well from the large deck. The second bedroom is ensuite. Powder room at front entry. The deck wraps around this whole level for outdoor living and dining. The lower level bunk room sleeps 8, and the fourth bedroom is just off a second living space. Full bathroom and laundry room. Sliding doors open to the large back yard, patio, and outdoor shower. The four bedroom septic system passed inspection August 2017. Sold unfurnished.
Lee Real Estate
240 Polpis Road
Polpis
$7,995,000
Off Market
Days on Market: 488
Bed: 4 Bath: 4.5
It's the Good Life! Serenity and Privacy await on shore and on the water. This gracious 4-bedroom, 4.5-bath harborfront home in Polpis is located on 7.2-acres with a 2-car garage and a 260-foot pier including a title float for the tie-up of two boats. The property is surrounded by 500+ acres of conservation lands. This is truly a boaters' dream as it is one of 15 licensed, privately-owned docks on the island. Imagine, from your dock to one of the Yacht Clubs, the Angler's Club or the Town Pier within fifteen minutes. On your boat ride back, pull out your fishing pole, drop in a line and reel in a Striped Bass or tie up at The Wauwinet for lunch. The tastefully designed interior rooms are spacious, light-filled and take full advantage of the spectacular views. This truly unique waterfront property must be seen to be appreciated!
Berkshire Hathaway HomeServices Island Properties
3 Blazing Star Road
South of Town
$1,695,000
Offer to Purchase
Days on Market: 487
Bed: 4 Bath: 3.5
Juniper model with community amenities that include a new 20′ X 40′ Infinity Edge pool, gazebo, beautifully landscaped park with Bocce Court, children's playground and fitness center with community kitchen and baths. 'The Juniper's' flexible floor plan features a wonderful gathering area on the first floor plus a second-floor family room. Open living/dining and kitchen with large island and eating bar with marble counter tops and luxury appliances. First floor bedroom with private bath. Take an outdoor shower and enter through the laundry/mud room with half bath. Second floor with lovely guest suite. Two additional bedrooms share a bath. Super family/TV room. Full basement with high ceilings and easy exterior access. Very lovely patio for outdoor enjoyment. Interior Photos depict finished homes.
Jordan Real Estate
7 New Street
Town
$2,195,000
Off Market
Days on Market: 542
Bed: 5 Bath: 4
An in town compound awaiting your finishing touches. Three bedroom, 2 bath main house with harbor views from widows walk; Two bedroom, two bath cottage with separate parking off Warren Street and unfinished framed garage with unfinished framed studio with bath above.
Atlantic East Nantucket Real Estate
31 Quaise Road
Quaise
$9,950,000
Off Market
Days on Market: 547
Bed: 3 Bath: 3.5
Roberta from Windwalker says it best !'A ' watersportsman' paradise and the ultimate Nantucket waterfront property! From sunrise to sunset, this upper harbor setting in the seaside enclave of Quaise embodies the classic Nantucket lifestyle, all four seasons!! Majestic, pristine views in every direction and from every window and the ever-changing vistas and sounds of the seascape/ landscape insure your complete relaxation from the stresses of life. Indulge in all that living on the water and 'island life' offers… early morning swims from your own beach, kayaking, contemplative walks, shellfishing for mussels, scallops, and cherrystones and fishing for bass; all plentiful in your 'front yard', windsurfing, sailing, picnics on unspoiled Coatue, a 7 minute boat ride to Town for dinner, and incredible birding and osprey nests to enjoy. When you are finally ready to retreat inside, a custom 3+ bedroom year-round home thoughtfully built with unique details throughout awaits and captures the feel of a grand boathouse with a wonderful use of soothing woods and bead board ceilings throughout and every comfort one would need. This magical and private setting brings visions of summers past, while inspiring you to create memories of your own. A rare offering and fabulous opportunity for someone who wants the experience of savoring all that our pristine waters offer!' Seller is a licensed MA real estate broker. Potential for 5 bedrooms if septic system is upgraded.
Osprey Real Estate
246 Milestone Road
Sconset
$1,750,000
P & S
Days on Market: 693
Bed: 0 Bath: 0
Excellent opportunity to own one of the largest available building lots in Sconset.
An almost 3 acre level building lot abutting the Nantucket Golf Course and Milestone Road, offering the ability to have a 3685 foot print and a 12 bedroom septic.
Create the home and lifestyle of your dreams!
Jordan Real Estate
2 White Street
Surfside
$1,299,000
Offer to Purchase
Days on Market: 759
Bed: 2 Bath: 2
Adorable two bedroom plus a den, two bath cottage located on a conforming one acre lot a short distance to pristine ocean beaches! Plenty of ground cover remaining, giving buyer the opportunity to build additional structures. The LUG-1 zoning allows 7% ground cover ratio; a footprint of 2,800 square feet (existing footprint is 635 sq ft.). There is also ample room for a pool, spa and cabana. This is a wonderful opportunity to be in a PRIVATE setting a few miles from Town and MOMENTS to the beach! STRONG rental history, see broker for details.
Congdon & Coleman Real Estate
40 Chuck Hollow Road
Tom Nevers
$1,425,000
Off Market
Days on Market: 457
Bed: 0 Bath: 0
Incredible 3 acre conforming lot rarely available with over 4,000 sq ft allowable ground coverage for the ultimate compound. Strong second floor ocean views spanning from this premier location and abuts over 300 plus acres of Conservation Land. MESA approved for a Main House, Guest House and Garage, Pool, Pool House and Tennis Court. One of a kind property not to be missed!
Maury People Sotheby's International Realty
4 Seven Mile Lane
Sconset
$750,000
Price Change
Days on Market: 843
Bed: 0 Bath: 0
Tucked away on a private, white shelled lane, this beautiful 20,000+ sf lot is ready for your Sconset dream house to be built! Abutting hundreds of acres of conservation land, this property offers privacy, serenity, and untouched natural vistas. The property is close proximity to the beach, golf and Sconset village. New construction from the second floor would enjoy unobstructed sunset views over the moors and distant ocean.
William Raveis Nantucket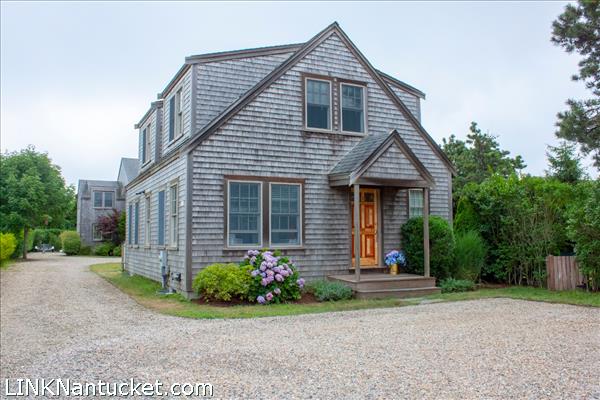 25A Evergreen Way # A
Surfside
$939,900
P & S
Days on Market: 63
Bed: 3 Bath: 3
Well maintained custom built three bedroom, three bath home located in an established year round neighborhood in Surfside. Bright and light kitchen
has custom cabinets and stainless steel appliances. Dining room, kitchen and living room share one open space with Brazilian cherry wood floors throughout. Door from dining room opens to the deck overlooking back yard. First floor bedroom and bathroom across the hall. Large second floor bedrooms have a private vanity with closet, sharing a full bathroom. Finished lower level with additional bathroom and convenient exterior access. 24 Hour Show Clause.
Congdon & Coleman Real Estate
Contact us for more information.