26 Old North Wharf
Town
$5,250,000
Bed: 1 Bath: 1
Private Boat Slip on the inner harbor comes with an historic cottage. The Zenas Coffin is an Old North Wharf waterfront Cottage. It has one boat slip on a finger pier, harbor side decks and 1 parking space. It has one queen bedroom, one full bath with an open Living/Kitchen/Dining area as well as a small loft accessed by a ships ladder. This is the ideal guest cottage for friends and family or for your private office away from home. When the urge hits, jump into your boat out front and hit the water. Or when you're headed downtown for any reason, you'll have your own private parking space. A rare opportunity to be a part of this exclusive COOP community on Old North Wharf.
William Raveis Nantucket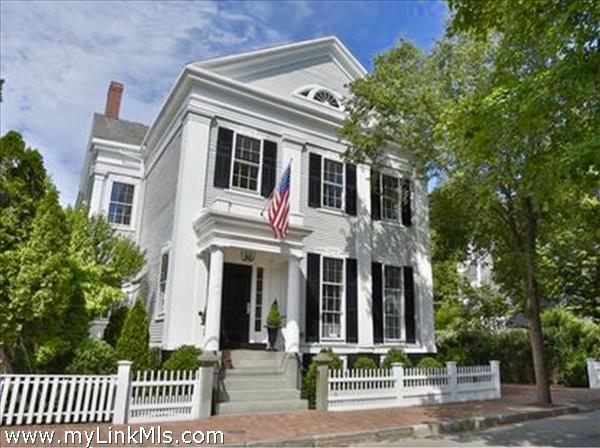 1 Pleasant Street
Town
$6,845,000
Bed: 7 Bath: 7+
In 1837, wealthy whaling merchant William Crosby commissioned Henry Macy to construct a 7,000+/- square foot, seven-bedroom mansion at One Pleasant Street. Now, this magnificent Greek Revival style residence, known as the William Crosby House, is offered for sale and represents an opportunity to acquire one of the island's finest, most significant buildings. Behind the historic facade are rooms of gracious proportion and grand scale, with plentiful natural light, soaring ceilings, and exquisite craftsmanship. A recent renovation meets the highest standards; great care was taken to respect the historic integrity of the structure and its original design. New systems (plumbing, electrical, HVAC), a spectacular new kitchen, new baths, and new flooring were carefully conceived and integrated to make this nineteenth century gem conducive to today's modern lifestyle. A truly spectacular residence, One Pleasant Street awaits a new owner to enjoy gracious living and entertaining in what is inarguably one of Nantucket's most iconic buildings.
Maury People Sotheby's International Realty
7 Swain Street
Brant Point
$3,795,000
Bed: 4 Bath: 3.5
Oversized lot with custom built home in desirable Brant Point, offers a light and bright open floor plan with gourmet kitchen, dining and living room with wood-burning fireplace and access to the spacious back deck with room for dining and lounging. A first-floor guest suite also opens onto the back deck. The house features multiple living spaces inside and out including 2 front porches, a back deck, roof walk and 2 living rooms. The second floor has a large family room with built-in cabinetry and a ship ladder to the loft with access to roof walk, the master bedroom suite has a walk-in closet, custom-built double dresser and bath with double vanities and oversized tiled shower. Two guest rooms share a full bath. The loft has built in daybeds and a ladder to the oversized Roof Walk with views of Nantucket Harbor and Sound. Located in the heart of Brant Point, this property is within close proximity to Town, Children's Beach and Jetties Beach. Abutting property at 4 East Lincoln is also available for sale and includes a garage and 1 bedroom apartment. Purchase both for an incredible oversized compound.
Lee Real Estate
4 East Lincoln Avenue
Brant Point
$1,895,000
Bed: 1 Bath: 1
Oversized lot in Brant Point with existing oversized 1 car garage with 1 bedroom/1 bath apartment and attached storage shed. The property can support approximately 1980 square feet of ground cover providing many options for expansion of the existing structure or the addition of a main house. Abutting property on 7 swain street is also listed for sale; buy both and create your own compound.
Lee Real Estate
21 Brewster Road
Monomoy
$8,995,000
Bed: 6 Bath: 5+
Stunning Monomoy compound has it all and is available for immediate occupancy! 3.72 acres in 1 acre zoning (has new access to Town sewer). Beautiful five bedroom main house with views of Nantucket Harbor, 20′ x 40′ pool, large spa, cabana that includes bath, kitchenette, and sitting area. Second structure includes oversized three car garage, one bedroom cottage, 800 sq. ft. home gym complete with steam shower and sauna. Har-Tru tennis court, bocce court, and access to harbor beaches in Monomoy down Cathcart or Monomoy Road.
Fisher Real Estate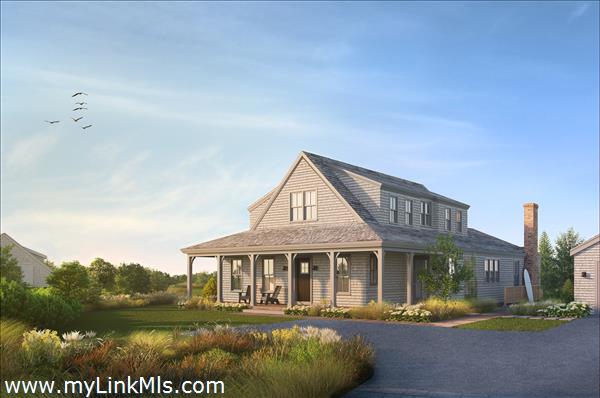 2 Westerwick Drive
Sconset
$4,067,500
Bed: 7 Bath: 7.5
This house comes fully loaded! – Wild Aster – Sun-loving, easy-going, and prized by butterflies; Wild Asters represent the simple joys we love on island. A floral inspired pallet and walking distance to community gardens and the Preserve, the Wild Aster is an idyllic cottage for those needing to a daily dose of island flora. Walking distance to miles of spacious coastal views, and just steps away from afternoon dog walks with the kids, Cannonbury Lane's site design and amenities marry the best of the island's natural wonders in one location. Meet the beach at the end of your driveway by way of community-wide dunescaping and boardwalks that guide wheelbarrows to waves. Follow gentle undulations of sand and sea oats to the backside of the enclave for sunset yoga at the Field House. Deeded beach access, gorgeous community cutting gardens, and private entry to acres of lush flora ensure that season on Sconset actually feels like summer.
Great Point Properties
38 Cannonbury Lane
Sconset
$3,245,000
Bed: 4 Bath: 4.5
BEACH PLUM – A rooted design inspired by an indigenous island treasure that lavishes in sun and salty air. Soothing neutrals, soft plum and grey accents, flecks of gold and sturdy woods make Beach Plum an homage to the wild and native plant that loves to live close to the shore. An Idyllic Abode For Soothing Sun And Sea Breeze. Walking distance to miles of spacious coastal views, and just steps away from afternoon dog walks with the kids, Cannonbury Lane's site design and amenities marry the best of the island's natural wonders in one location. Meet the beach at the end of your driveway by way of community-wide dunescaping and boardwalks that guide wheelbarrows to waves. Follow gentle undulations of sand and sea oats to the backside of the enclave for sunset yoga at the Field House. Deeded beach access, gorgeous community cutting gardens, and private entry to acres of lush flora ensure that season on Sconset actually feels like summer.
Great Point Properties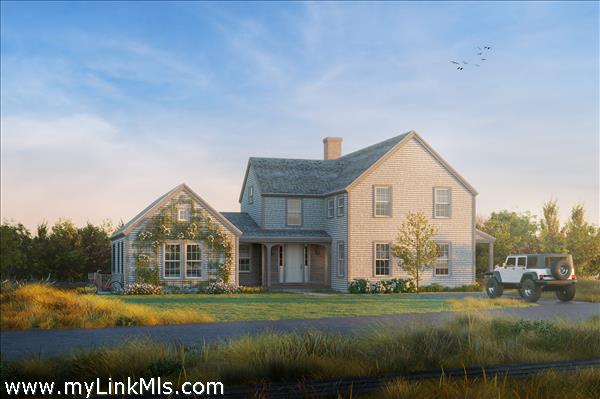 34 Cannonbury Lane
Sconset
$3,270,000
Bed: 4 Bath: 4.5
Bayberry – Bayberry's centuries-old reputation as a reinvigorating element for healing and good health now inspires a refuge for those in need of a summer refuge. Plus blues, earthy bark and branch tones, and misty grays adorn a home offering plenty of room for relaxation. Walking distance to miles of spacious coastal views, and just steps away from afternoon dog walks with the kids, Cannonbury Lane's site design and amenities marry the best of the island's natural wonders in one location. Meet the beach at the end of your driveway by way of community-wide dunescaping and boardwalks that guide wheelbarrows to waves. Follow gentle undulations of sand and sea oats to the backside of the enclave for sunset yoga at the Field House. Deeded beach access, gorgeous community cutting gardens, and private entry to acres of lush flora ensure that season on Sconset actually feels like summer.
Great Point Properties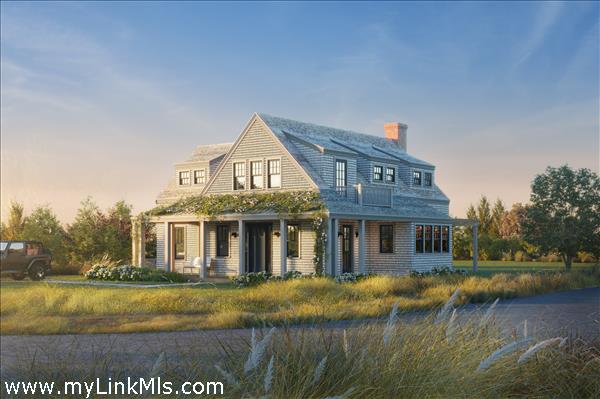 6 Westerwick Drive
Sconset
$3,015,000
Bed: 5 Bath: 5.5
Garden by the Sea – Eden Rose – Outfitted with rooftop trellises and a layout fostering cozy togetherness, the Eden Rose puts the spirit of a beach garden on full display. The home's materials showcase soft sunset blushes, creams, brushed silver and slate so that enjoying Sconset's most iconic flora doesn't end at the front door. 'Garden by the Sea' is an idyllic island neighborhood that embraces all of the elements we love about Nantucket. Deeded beach access with a meandering path down to the waters edge encourages one to explore and take in the restorative salt-air and sunshine. Acres of conservation embrace this neighborhood and ensure a peace that only comes with nature. A community gym also hosts a library and expansive yoga deck facing toward open conservation land. Just a short distance away, the Sconset Village bustles with friends and families getting provisions from The Market, kids in tennis lessons, farmer's trucks selling tomatoes and corn, and artists painting rose covered cottages.
Great Point Properties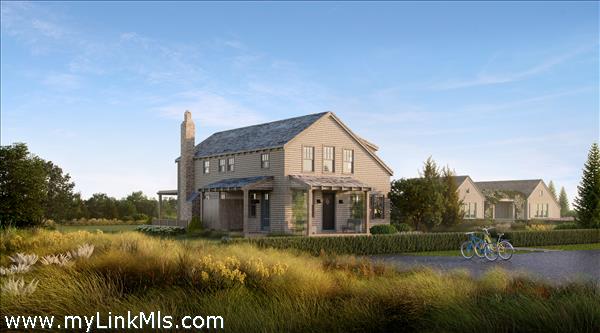 3 Reaper Circle
Sconset
$2,695,000
Bed: 4 Bath: 3.5
Lavender House – The Lavender House's gentle hues and airy design channel the comforting aura of an herb known to heal and restore. Breezy views and wrap around porches are complimented by brushed bronzes and wood finishes, with touches of pale lavender offering a sense of natural ease and tranquility. Walking distance to miles of spacious coastal views, and just steps away from afternoon dog walks with the kids, Cannonbury Lane's site design and amenities marry the best of the island's natural wonders in one location. Meet the beach at the end of your driveway by way of community-wide dunescaping and boardwalks that guide wheelbarrows to waves. Follow gentle undulations of sand and sea oats to the backside of the enclave for sunset yoga at the Field House. Deeded beach access, gorgeous community cutting gardens, and private entry to acres of lush flora ensure that season on Sconset actually feels like summer.
Great Point Properties
30 Cannonbury Lane
Sconset
$995,000
Bed: 0 Bath: 0
Four hundred acres of expansive conservation acreage surrounds a quiet street near the end of Low Beach Road. There one finds a rare opportunity on Cannonbury Lane: nature ensconced home sites promising coveted summer simplicity by way of a remote location, deeded beach access, and ready-to-build half acre lots. Walking distance to miles of spacious coastal views, and just steps away from afternoon dog walks with the kids, Cannonbury Lane's site design and amenities marry the best of the island's natural wonders in one location. Reach the deeded beach access at the end of your street by strolling the community-wide dunescaping and boardwalks that guide wheelbarrows to waves. Follow gentle undulations of sand and sea oats to the backside of the enclave to enjoy sunset yoga at the community gym and a private entrance to the acres of surrounding conservation land. This exterior lot has the potential to offer a buyer amazing second floor ocean views.
Great Point Properties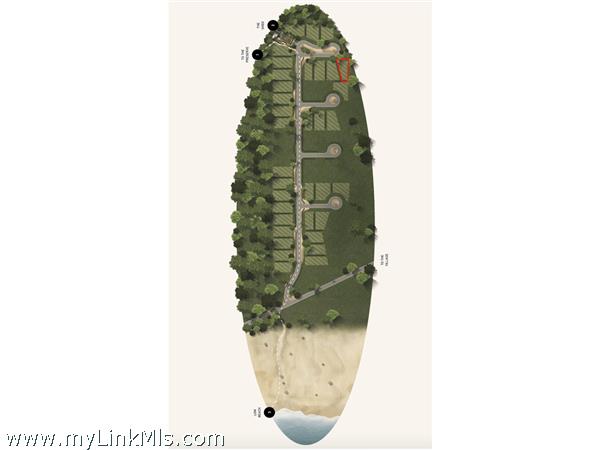 7 Westerwick Drive
Sconset
$950,000
Bed: 0 Bath: 0
Four hundred acres of expansive conservation acreage surrounds a quiet street near the end of Low Beach Road. There one finds a rare opportunity on Cannonbury Lane: nature ensconced home sites promising coveted summer simplicity by way of a remote location, deeded beach access, and ready-to-build half acre lots. Walking distance to miles of spacious coastal views, and just steps away from afternoon dog walks with the kids, Cannonbury Lane's site design and amenities marry the best of the island's natural wonders in one location. Reach the deeded beach access at the end of your street by strolling the community-wide dunescaping and boardwalks that guide wheelbarrows to waves. Follow gentle undulations of sand and sea oats to the backside of the enclave to enjoy sunset yoga at the community gym and a private entrance to the acres of surrounding conservation land.
Great Point Properties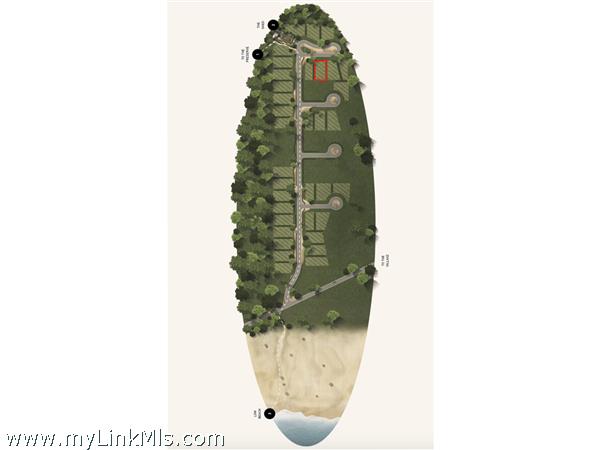 3 Westerwick Drive
Sconset
$895,000
Bed: 0 Bath: 0
Four hundred acres of expansive conservation acreage surrounds a quiet street near the end of Low Beach Road. There one finds a rare opportunity on Cannonbury Lane: nature ensconced home sites promising coveted summer simplicity by way of a remote location, deeded beach access, and ready-to-build half acre lots. Walking distance to miles of spacious coastal views, and just steps away from afternoon dog walks with the kids, Cannonbury Lane's site design and amenities marry the best of the island's natural wonders in one location. Reach the deeded beach access at the end of your street by strolling the community-wide dunescaping and boardwalks that guide wheelbarrows to waves. Follow gentle undulations of sand and sea oats to the backside of the enclave to enjoy sunset yoga at the community gym and a private entrance to the acres of surrounding conservation land.
Great Point Properties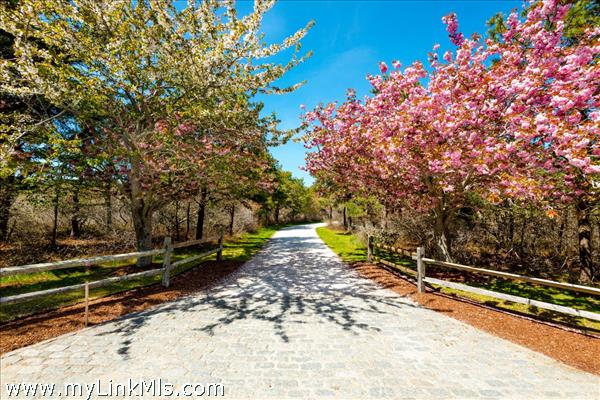 4 Okorwaw Avenue
Surfside
$2,595,000
Bed: 5 Bath: 3.5
This lovely, two-acre property is conveniently located close to Fishermans and Nobadeer Beaches in the highly sought after Surfside area. Follow the long seashell driveway to the well tucked away 5br, 3.5ba recently renovated home, including a custom kitchen by Jutras Woodworking, a gorgeous fireplace, and ample outdoor entertaining spaces. You'll find plenty of room in this home along with room for expansion to include a pool, and a cottage, or garage! Recent sales in this area suggest this is a very well priced investment.
William Raveis Nantucket
54 Orange Street
Town
$4,650,000
Bed: 6 Bath: 5.5
Steeped in history, 54 Orange Street remains a masterpiece and one of the best examples of 1830s Greek revival architecture on Nantucket. The property features three spacious porches and beautiful harbor and Town views. The home has high ceilings, ample light, multiple fireplaces and a two-car garage. The home was built by Captain Charles Grant, the most successful whaling captain of his time. Many distinctive details are still intact today, including the ionic columns, pediment entry and gorgeous floors and trim detail. In addition to the three main floors of living space, there is a lower level apartment with interior and exterior access. The stunning back and side yards complete this unique offering, ready for its next steward to make their own.
Fisher Real Estate
52 Lovers Lane
Surfside
$3,795,000
Bed: 4 Bath: 5.5
Half a mile from desirable Surfside beaches this property has over 4000 sq ft of living space. A brand new custom designed home with three finished levels, 4 bedrooms, 5 ½ bath, plus two bonus rooms delivers perfect island living.  There are two gas fireplaces, high velocity central air, Sonos entertainment system, instant hot water heaters, and so many other high end features that today's sophisticated buyer is desiring. Wonderful floor plan flow offers pool and backyard forest views. Exterior living unfolds with an expansive blue stone patio, heated Gunite pool with relaxing built-in spa and separate pool cabana with a sleeping loft combine to create an ideal outdoor entertainment setting. With its proximity to Nobadeer and Fisherman's beaches, the peaceful 143 acre State Forest across the street, and impending Lovers Lane bike path project (see link to Nantucket-ma.gov for details), this Surfside property is one of the best values on the market today. Note, a rare family compound option is available, abutting 50 Lovers Lane is also offered for sale.
J Pepper Frazier Co.
17 Old North Wharf
Town
$4,500,000
Bed: 1 Bath: 2
Nestled in one of Nantucket's most photographed and coveted locations, the "boat house" sits in the heart of Old North Wharf. Enjoy breathtaking harbor views from every room in this fully renovated property, which acts as brand new. While beautiful and serene, this location is also ideally suited for those that wish to live within close proximity to all that town has to offer. This unique property is easily converted back into a two-bedroom residence with the additional sleeping loft.
Fisher Real Estate
8 Aurora Way
Hummock Pond
$2,345,000
Bed: 4 Bath: 5+
Meticulously maintained three bedroom home and a recently finished 750+ square foot one bedroom studio with parking for four cars. Wonderful outdoor space connects the two structures. Integrated Sonos system throughout the house, studio and patio areas. This fantastic Hummock Pond location is halfway between Nantucket Town and South Shore. The convenient bike path leads you to island favorites such as Cisco Beach, Bartlett's Farm, Cisco Brewery, and 167 Seafood.
Great Point Properties
12 Shell Street
Sconset
$1,995,000
Bed: 4 Bath: 3
Charming cottage constructed in 2017 located in the heart of the village. Offering modern amenities including central air, wood stove, spacious kitchen, radiant heat and cathedral ceilings. Three floors of finished living space with four bedrooms, three and a half baths, including second floor master suite overlooking the historic village, multiple living areas, off street parking and wraparound porch. Excellent rental history averaging $65k annually. Not to be missed.
J Pepper Frazier Co.
1 Sunset Ridge Road
Sconset
$2,795,000
Bed: 5 Bath: 3.5
The quality is in the details of this newly constructed home is located on a shelled street in the heart of Sconset. The front gate leads to a covered front porch. Three finished floors, 4500 square feet of living space with five bedrooms and three and one-half bathrooms. The great room with fireplace has a beamed vaulted ceiling and is open to the dining room and custom kitchen. The side yard is beautifully landscaped and fenced, creating a private oasis for the stone patio. Less than a half-mile to the Sconset Beach the home is being offered fully furnished ready for summer occupancy.
Great Point Properties
21 Boulevarde
Surfside
$2,145,000
Bed: 4 Bath: 4.5
Well maintained, four bedroom 4.5 bath Surfside home is perfectly situated on an acre of land at the end of a shell driveway. Enjoy the open floor plan with lots of natural light and pine floors throughout. The kitchen boasts modern cherry cabinets and stainless appliances. Spacious living room with cozy cobblestone fireplace is great for family gatherings and guests. Sliding doors from dining and living room lead to back deck overlooking mature private yard. Another set of sliding doors opens to a welcoming front porch surrounded by hydrangeas. Attached two car garage. 7 bedroom septic allows for future expansion and approximately 1400 sq. feet remaining on the ground. Excellent rental history.
Congdon & Coleman Real Estate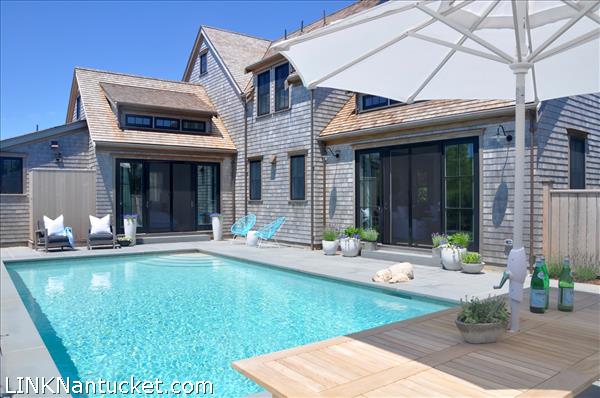 33 Pilgrim Road
Cliff
$4,450,000
Bed: 5 Bath: 4.5
The Nantucket Lifestyle! Easy Summer living in this turnkey, stunning, bright, open modern design by Emeritus. This home offers peace and tranquility and is conveniently located right off of Cliff Road. This sought after location allows for easy access to Town and is only moments away from north shore beaches and The Westmoor Club. Relax and Enjoy the beautiful outdoors with southwest breezes and bright sunshine by your refreshing salt water swimming pool. To complete the outdoor scene, escape to the private and comfy conversation area with gas fire pit. Offered mostly furnished! Make this special home your personal Pilgrimage!
Berkshire Hathaway HomeServices Island Properties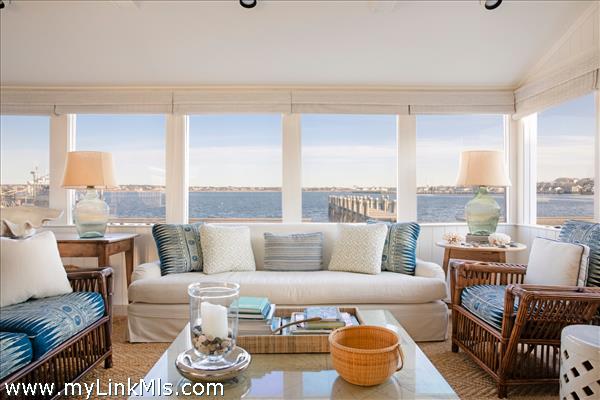 16 Easton Street
Brant Point
$17,250,000
Bed: 8 Bath: 7.5
Built around the water, designed around a view, "Driftwood" exudes simple and uncomplicated living. A two-home property channeling the ease of life on the water, Easton's panoramic vistas and access to a deep water dock leverage the lull of the ocean to keep life mellow. Unparalleled views with a cottage feel, two dwellings and seven bedrooms, make this special property truly a generational retreat. The main house marries the spaces one hopes for by way of a great room, five bedrooms, and a sprawling back deck encased by an expansive lawn. A secondary garden home behind the main house fronts Easton Street and offers three additional bedrooms, a kitchen, a second living room and a garage for your storage needs.
Fisher Real Estate
22 & 24 Easton Street
Brant Point
$17,750,000
Bed: 5 Bath: 4.5
Located in beautiful Brant Point, the gateway to Nantucket is 22 & 24 Easton Street, one of the most coveted locations on the island. The property offers sweeping views of the harbor, Monomoy, and beyond as well as the horizon of church steeples and Town. With its ever- changing landscape of maritime activities, this location is a yachtsman's paradise. The large back deck and yard which stretches to the harbor is a perfect place to enjoy the sunrise as well as all of your summer activities and entertaining. With the use of your private deep water dock, you are steps away from fishing, sailing and day cruising. There is nothing better than gathering with friends for a sunset cruise around the harbor as well as your front row seat to the Rainbow Fleet Parade of boats during Nantucket's famous Race Week. The property includes a well maintained 5 bedroom home, an oversized two car garage, has an excellent rental history and is just moments away from historic Main Street. This is an excellent opportunity to own a truly special waterfront property in one of the most iconic areas on Nantucket!
Lee Real Estate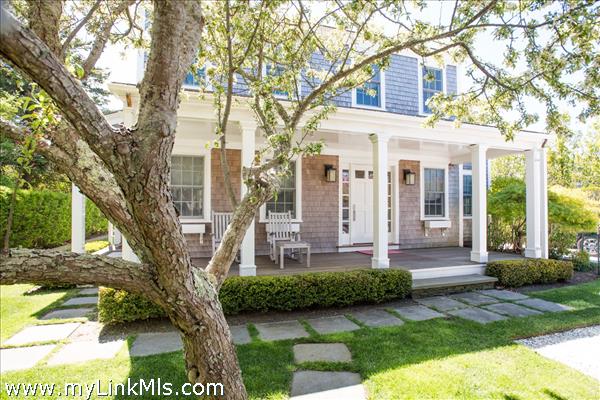 106 Cliff Road
Cliff
$4,450,000
Bed: 5 Bath: 5.5
This beautiful Cliff Road property is tucked off Cliff Road down a winding shell driveway and offers privacy, high-end amenities, comfort, and convenience to the Cliff Road Bike path, North Shore Beaches, Westmoor, and Town. The house features an open floor plan with 9′ coffered ceilings, a gourmet kitchen with thick stone counters, 6 burner Wolff stove, Subzero refrigerator, eat-at island, sitting area, dining, and living room with wood-burning fireplace and French doors to a spacious deck with pergola, patio, mature gardens with fruit trees, and hedged in yard. The 5 bedroom suites are all comfortable in size. This house is meticulously maintained and in turn-key condition. Room for private pool. Furniture package available for immediate occupancy.
Lee Real Estate
33B Washington Street
Town
$2,295,000
Bed: 3 Bath: 2
This Hidden Gem' in the middle of town and across from harbor access. Beautifully built with custom details throughout. Updated kitchen with sunny breakfast nook. Harbor views from the second floor bedrooms, Walk across the street your boat or kayak and head up the harbor. The out door space is ideal for relaxing away from the hub Bub of town that is only moments away.
William Raveis Nantucket
Contact us for more information.