14 Easy Street # W
Town
$825,000
Bed: 0 Bath: 0
Beautifully detailed and newly constructed first floor retail space with lovely deck, french doors, and handicapped accessible half bath.
Lee Real Estate
14 Easy Street # E
Town
$1,795,000
Bed: 0 Bath: 0
Unparalleled opportunity to own this gorgeous 910 square foot first floor retail space with large windows, east and west access doors, views of the harbor and the little red boat from the inside and 360 square foot deck. Beautiful tile floors that look like wide board oak planks. Plentiful LED track lighting throughout. Handicapped accessible half bath.
Lee Real Estate
1 Sunset Ridge Road
Sconset
$2,950,000
Bed: 5 Bath: 3.5
The quality is in the details of this newly constructed home located in the heart of Sconset. Three finished floors, 4500 square feet of living space with five bedrooms and three and one half bathrooms. The great room with fireplace has a beamed vaulted ceiling and is open to the dining room and custom kitchen. The side yard is beautifully landscaped and fenced, creating a private oasis for the stone patio. The front gate leads to a covered front porch. Close to the village and the beach with all that village has to offer.
Great Point Properties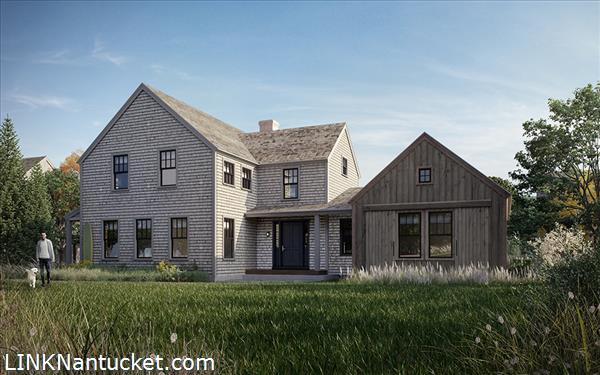 76 Hawthorne Park
Hummock Pond
$1,190,000
Bed: 0 Bath: 0
Both a hideaway from city life and an enviable access point between Cisco and Town, HAWTHORNE PARK delivers the simplicity and ease that makes summer on Nantucket pure magic. Designed with award-winning architect Workshop/APD, this private enclave is composed of elegant, high design homes set against a peaceful and inviting three-acre community park.
Lot 76 is permitted for a Homestead model.
Fisher Real Estate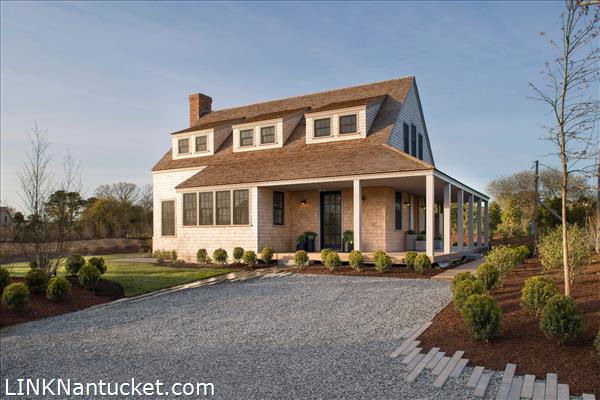 81 Hawthorne Park
Hummock Pond
$2,995,000
Bed: 3 Bath: 3.5
Located in Nantucket's hottest new neighborhood, THE COTTAGE's airy and alluring layout, soft palette tones, luxe finishes and natural stones and hardwoods complete a masterful design that's uniquely suited to help islanders embrace and celebrate total comfort. HAWTHORNE PARK delivers the simplicity and ease that makes summer on Nantucket pure magic. A rustic refuge promising a resort-inspired experience, Hawthorne Park's amenity-rich acreage features a residents' pool, spa, cabana and gym; all situated just minutes from the ferry and steps away from the Cisco Bike Path.
Fisher Real Estate
111 Surfside Road
Surfside
$1,595,000
Bed: 3 Bath: 2
I have a confession to make….. I have been 'hiding in plain sight!' I am in LUG1 Zoning on a stunning .98 acre lot. Who am I you might ask? I live in the HOT MARKET known as SURFSIDE and I am full of options to a new owner. I was built in 1988, and am a Cape Cod style home. I have been nicely maintained and am an immaculate three bedroom, two bath home offering natural southern light. My options are many including a possible 2,000 square feet of expansion and a relatively new four bedroom septic system, and I travel with a consistent rental history. Come build a second dwelling and/or garage with a studio or enjoy me as I am. Or, give me a pool and a hot tub! Residing on this naturally treed and landscaped property has made me a bit of a recluse. If you really need to leave me during the day, Surfside Beach is less than one mile away or head to town for great restaurants and unique shopping.*** Showings are Sundays only due to tenant turnover. A must see!
J Pepper Frazier Co.
23 BlackFish Lane
Sconset
$5,575,000
Bed: 5 Bath: 5+
New construction at the end of BlackFish Lane abutting Sconset Trust's Ruddick Commons conservation land. Thoughtfully envisioned by Emeritus with island summer living mind, the house enjoys exceptional light with full Southern exposure and a seamless open design. Upon completion there will be five suites including a first floor master wing and a second floor petite master. The garage building doubles as a cabana on the rear at the end of a 42′ pool that parallels the house.
Lee Real Estate
27 West Chester Street
Town
$4,695,000
Bed: 6 Bath: 5+
Expertly designed and furnished by Botticelli and Pohl Architects, this in-town home offers 6 bedrooms and multiple living spaces across three finished levels of fully and completely renovated space. The house boasts sun-filled rooms with tasteful details throughout including beamed ceilings; carefully selected marble counters, tiles, beautiful plumbing, lighting fixtures, and door hardware. The outdoor area is a seamless extension of the living space and includes a water feature and landscaped path to Sunset Hill. This is a special and completely renovated home that is ideally suited for discerning buyers seeking a new and thoughtfully built home by among the island's most sought after design teams. Offered furnished.
Great Point Properties
17 Pleasant Street
Town
$2,995,000
Bed: 2 Bath: 2.5
Located amongst some of Nantucket's most beautiful and prominent homes is one of the island's classiest and most timeless properties. From the architectural and high-end design elements, to the soaring ceilings and functional, open layout, 17 Pleasant Street is an absolute stunner. It features exquisite woodwork throughout, including crown moldings, carved fireplace mantels, curved doorways, ceilings and walls, as well as custom built-ins throughout. The property is ideally situated just moments to Main Street, offers lovely, private outdoor space and two off-street parking spaces in a cobblestone driveway. An optional furnishings package presents a turn-key aspect for buyers looking to enjoy the property immediately.
Fisher Real Estate
25 Pocomo Road/ 6 Lauretta Lane
Pocomo
$13,900,000
Bed: 8 Bath: 8+
This is a spectacular and unique waterfront offering. The property is comprised of two lots with a meandering path to the sandy beach with mooring access on nine acres with over 500 feet of beachfront. The private, winding driveway leads you to a main house, guesthouse, three-car garage, pool, spa, additional cottage and artist's studio. The compound captures panoramic views from every structure of Nantucket harbor, Coatue with dramatic sunsets.. This beautiful Botticelli & Pohl designed property spans over 8000 square feet of living space yet still allows for significant ground cover expansion. This luxury property offers everything one could want in a family compound.
Lee Real Estate
17 Rose Lane
Town
$2,500,000
Bed: 1 Bath: 1
This charming lot, located at the end of the elusive Rose Lane is perhaps the quietest location in the very heart of the Old Historic District. The existing oversized garage with studio and full bath is the perfect start to a very creative and special endeavor… just waiting for the lucky buyer who envisions its potential!
Great Point Properties
28 India Street
Town
$3,500,000
Bed: 0 Bath: 0
This rare and newly created offering in the Old Historic District represents a rare opportunity to construct your dream home on an oversized lot right in the heart of Town. This spacious and grassy lawn is adorned with two stately Town trees, as well as an iconic and beloved tree house. This charming lot on India Street has been a delight to passersby for ages. It is now ready for its next steward, with an eye for history, and a desire to live with modern amenities and new construction. The Seller retains the right to sell Lot #1 prior to selling Lot #2 and Lot #3 (also a new offering, and listed at $2,500,000).
Great Point Properties
28 India Street # 1
Town
$5,400,000
Bed: 8 Bath: 4.5
Sitting high above India Street, this Georgian-style home was built in the 1830's for the prosperous whaling Captain David J. Baxter. This stately home exudes the grand elegance of those constructed during the glorious and most prosperous whaling days. These homes are found mostly along our cobbled Main Street, making 28 India a rare exception. The interior boasts high ceilings, spacious rooms (including a first floor living room and double parlor), and many original molding details. Sited on a substantially oversized lot, this property is now priced well for the buyer interested in restoring history to accommodate modern and stylish amenities.
Great Point Properties
70 Vestal Street
West of Town
$4,950,000
Bed: 5 Bath: 5
This well crafted, custom built home is located within a mile of Main Street, boasting both privacy and convenience. For an end-user who is interested in enjoying natural surroundings, gorgeous outdoor living spaces and a pool, or a buyer interested in a rental investment, this property offers all of that and more. The owner has made
consistent and thoughtful improvements, both cosmetic, structural, and to the systems of the property, and has a generated a strong rental history. An incredible property to enjoy in all seasons, 70 Vestal Street is an incredible turn-key opportunity.
Amy Sanford Real Estate
6 North Road
Sconset
$2,175,000
Bed: 4 Bath: 3
A lovely sunny and well-maintained home being offered turn-key ready to move in and enjoy. It can be used each season, as the present owner has installed central A/C and heat. Tucked away on a quiet street close to the village and beach with all that Sconset has to offer. The home has four bedrooms, three bathrooms, an oversized yard, and covered front porch. Room for potential expansion with over 1000 square feet of ground cover still available.
Great Point Properties
3 Pleasant Street
Town
$3,095,000
Bed: 4 Bath: 3+
A meticulously maintained 19th century antique in the heart of downtown Nantucket. This four bedroom, three plus bathroom house offers a generous sized yard and two off-street parking spots just steps from Main Street. If only the walls could talk, the property seeps with history. The historical elements have been preserved and maintained in order to keep the authenticity of the original structure. Some of the various maintained items include: new roof, rebuilt chimney, new partial foundation, Mahogany window sashes, restructured first floor ceiling. There have also been numerous upgrades made over the years including the installation of central air and heat. This property is looking for the next steward to continue its legacy.
Maury People Sotheby's International Realty
76 Pocomo Road
Pocomo
$2,995,000
Bed: 4 Bath: 3.5
Driving from Town on the Polpis Road toward Pocomo, you begin to feel what it's like to truly be on vacation. A long shell driveway provides a dramatic approach to the property, with the view of Polpis Harbor ahead of you. As the water views come into sight, you realize you're arriving somewhere special. Sited on a lush 1.3 acre lot, the house, with almost 4,000 square feet of living space, spreads out in all directions. This unique waterfront estate offers magnificent views with nothing between you and the water. The house and property afford plenty of room to entertain in style, or enjoy family gatherings. An extra bonus is the easy beach access, via a private way, and stairs that lead down to your little piece of heaven on Pocomo Beach. It would be impossible to find anything comparable at this price anywhere on the island.
Maury People Sotheby's International Realty
25 North Beach Street
Brant Point
$3,995,000
Bed: 4 Bath: 1.5
This charming summer cottage is located on North Beach Street. The cottage is in excellent move in condition. Lot A is Garage, Lot B is house. Lot A&B being sold together.
Total lot size 9,856 sf. 25 North Beach St. & 26 East Lincoln Ave.
Bamber Real Estate
8 Isobels Way
Sconset
$3,475,000
Bed: 7 Bath: 5+
Sweeping panoramic views overlooking the Sankaty Head golf course and Sankaty Lighthouse, exceptional privacy, and gorgeous sunsets from the spacious deck and balcony are just the beginning of what this unique property offers. This family compound is nestled on 3 acres, including a 4 bedroom, 3.5 bath main house, a 3 bedroom, 2.5 bath guest house, a 1 car garage and 2 outdoor showers. This spectacular property offers a multitude of outdoor entertaining possibilities with decks and patios ensconced in expansive grounds and beautiful gardens. On the west side of the property, there is ample space for expansion opportunities such as an addition, new construction, and/or a pool, tennis court, or recreational facility.
Lee Real Estate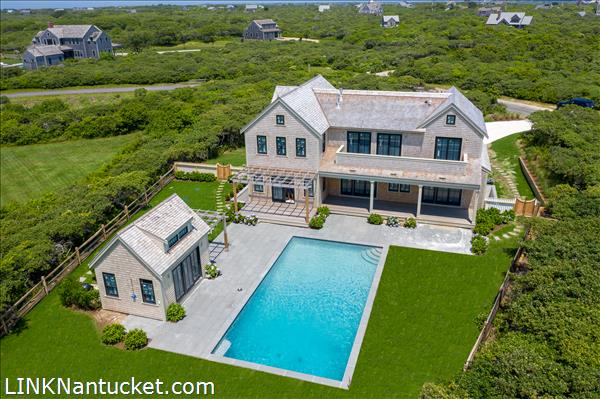 7 Coffin Road
Tom Nevers
$3,750,000
Bed: 4 Bath: 4+
Stunning new home in Tom Nevers! Three levels of living space totaling 4,500 s.f. 4 bedrooms, 4 full and 2 half baths. Two living areas with distant ocean views. The heated saltwater swimming pool and cabana are perfect for outside enjoyment. Builder is putting on the finishing touches for Fall completion.
Jordan Real Estate
40 Easton Street
Brant Point
$13,995,000
Bed: 8 Bath: 6.5
This quintessential Nantucket waterfront retreat, in one of the most coveted and iconic locations on island, has been loved, enjoyed, and meticulously maintained by the present family for the last 45 years. From sunrise to sunset, there is always something to do or watch from this idyllic Brant Point setting. Breathtaking, sweeping views in every direction, and the ever-present reminder of the natural beauty of Nantucket provide the calm and tranquility that beckon so many to this island. Offering over 6900 square feet of finished living space flowing beautifully to the outside with generous porches, balconies, decks, landscaped yard with lovely gardens, beach, and bulkhead, there is plenty of room for family and friends to enjoy all that this island offers, throughout the year. Four levels of waterfront living include a modern, open floor plan, 8 bedrooms offering terrific privacy, a full basement for boat storage and more; a two car garage, and the convenience of Town, moments away. Originally built in 1890 and ultimately run as a ten bedroom guest house called the Moorings until the present family purchased it in 1974. Renovated then, and again in 2001-2 when it was taken down to the studs and completely rebuilt and expanded with the aid of architect, Luke Thornewill, retaining and enhancing its architectural integrity to take full advantage of every view. This is an incredible opportunity for the buyer seeking a front row seat to the best of Nantucket.
Maury People Sotheby's International Realty
26 Clarendon Street
Tom Nevers
$799,000
Bed: 3 Bath: 2
26 Clarendon Street is sited towards the very end of a quiet dead-end street bordering acres of Conservation land. The property has frontage on both Clarendon and Berkley Streets. The 3-bedroom post and beam house has a deck off the second floor living room which overlooks Conservation and has a distant water view. The property also has a workshop. This is a great opportunity for year round or vacation living.
Maury People Sotheby's International Realty
16 Gardner Road
Shimmo
$2,190,000
Bed: 3 Bath: 2.5
Tucked back and set high on a hillside in Shimmo. This peaceful oasis is a true Nantucket retreat surrounded by tranquil gardens, stone walls, mature landscaping, large bluestone patio, and wrap around porch. Unique architectural details and fine craftsmanship are exemplified in the curvature of the walls, transoms and built-ins. The kitchen opens to the dining room and vaulted living area. The open floor plan easily flows via French doors to the wrap around porch. First Floor master bed room. Powder room. The second floor has a sitting area, library with built-in book shelves, wet bar, two bedrooms, office, and full bathroom. A dramatic curved loft area is incorporated into the living spaces and a custom built helix ship ladder dramatically flows through the loft to the widows walk. Expansive views from widows walk to Great Point. There are two parking areas and a large side yard. There is approximately 1,400 sf of ground cover available. Town Sewer is available in Gardner Road. The seller is a MA licensed real estate broker.
Lee Real Estate
Contact us for more information.