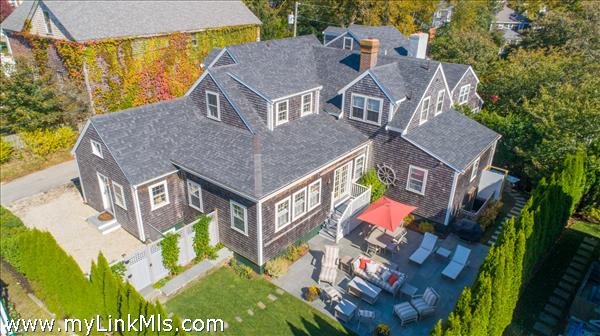 10 Candle House Lane
Town
$3,850,000
Bed: 5 Bath: 5+
Tucked away on a quiet side-street in the heart of downtown, this 5 bedroom home affords the kinds of living and entertaining spaces more commonly found in estate settings. Gracious, open concept floor plan, first-floor master bedroom and all en suite bedrooms. The lower level boasts a home gym and a rec room that is not be missed: bar with counter seating, 7-foot projection TV and billiards table!
Congdon & Coleman Real Estate
19 Bishops Rise
Dionis
$3,495,000
Bed: 4 Bath: 3.5
Contemporary home with distant water views located on a private street in an exclusive Dionis neighborhood within walking distance to Dionis beach. Located at the end of Bishops Rise Lane, this beautiful 4-bedroom, 3.5-baths home has every modern amenity, with the possibility of adding an additional Cottage and Cabana adjacent to the current structure – state of the art architectural plans available to buyer. An expansive heated pool surrounded by a large bluestone patio and garden completes the details of your future Nantucket home. Please call for more information or an appointment to preview this special property.
ACK Distinctive Properties
32 Cannonbury Lane
Sconset
$3,220,000
Bed: 6 Bath: 5.5
BEACH PLUM – A rooted design inspired by an indigenous island treasure that lavishes in sun and salty air. Soothing neutrals, soft plum and grey accents, flecks of gold and sturdy woods make Beach Plum an homage to the wild and native plant that loves to live close to the shore. An Idyllic Abode For Soothing Sun And Sea Breeze. Walking distance to miles of spacious coastal views, and just steps away from afternoon dog walks with the kids, Cannonbury Lane's site design and amenities marry the best of the island's natural wonders in one location. Meet the beach at the end of your driveway by way of community-wide dunescaping and boardwalks that guide wheelbarrows to waves. Follow gentle undulations of sand and sea oats to the backside of the enclave for sunset yoga at the Field House. Deeded beach access, gorgeous community cutting gardens, and private entry to acres of lush flora ensure that season on Sconset actually feels like summer.
Great Point Properties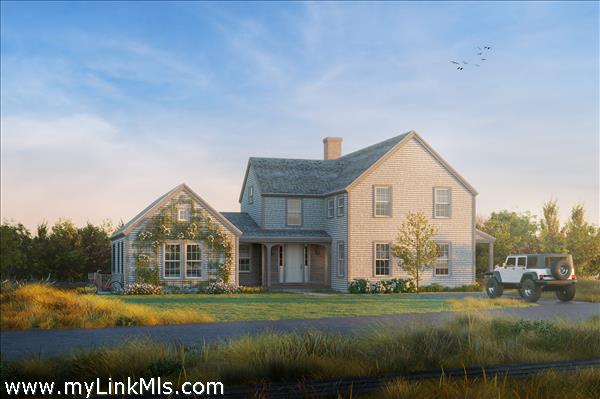 5 Westerwick Drive
Sconset
$3,445,000
Bed: 6 Bath: 2+
Bayberry – Bayberry's centuries-old reputation as a reinvigorating element for healing and good health now inspires a refuge for those in need of a summer refuge. Plus blues, earthy bark and branch tones, and misty grays adorn a home offering plenty of room for relaxation. Walking distance to miles of spacious coastal views, and just steps away from afternoon dog walks with the kids, Cannonbury Lane's site design and amenities marry the best of the island's natural wonders in one location. Meet the beach at the end of your driveway by way of community-wide dunescaping and boardwalks that guide wheelbarrows to waves. Follow gentle undulations of sand and sea oats to the backside of the enclave for sunset yoga at the Field House. Deeded beach access, gorgeous community cutting gardens, and private entry to acres of lush flora ensure that season on Sconset actually feels like summer.
Great Point Properties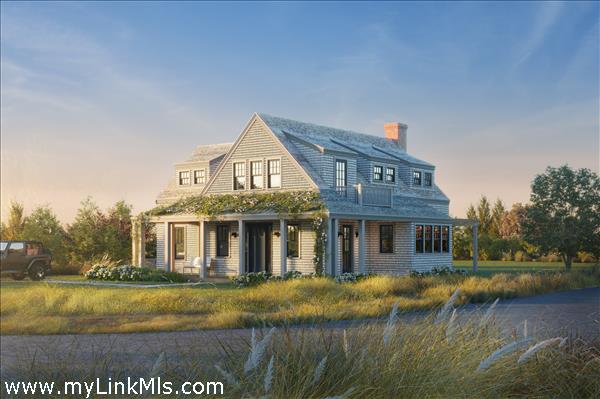 4 Westerwick Drive
Sconset
$3,150,000
Bed: 5 Bath: 5.5
Garden by the Sea – Eden Rose – Outfitted with rooftop trellises and a layout fostering cozy togetherness, the Eden Rose puts the spirit of a beach garden on full display. The home's materials showcase soft sunset blushes, creams, brushed silver and slate so that enjoying Sconset's most iconic flora doesn't end at the front door. 'Garden by the Sea' is an idyllic island neighborhood that embraces all of the elements we love about Nantucket. Deeded beach access with a meandering path down to the waters edge encourages one to explore and take in the restorative salt-air and sunshine. Acres of conservation embrace this neighborhood and ensure a peace that only comes with nature. A community gym also hosts a library and expansive yoga deck facing toward open conservation land. Just a short distance away, the Sconset Village bustles with friends and families getting provisions from The Market, kids in tennis lessons, farmer's trucks selling tomatoes and corn, and artists painting rose covered cottages.
Great Point Properties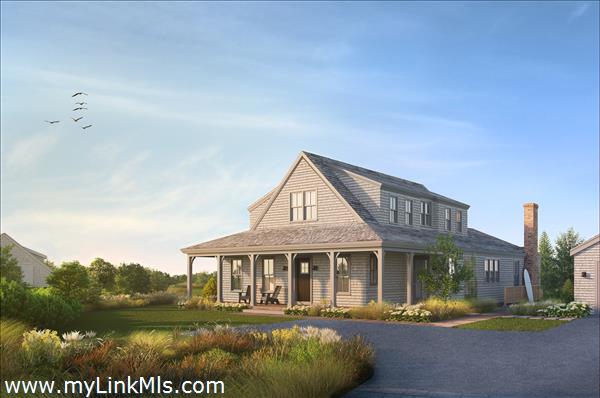 21 Cannonbury Lane
Sconset
$3,420,000
Bed: 6 Bath: 5.5
Wild Aster – Sun-loving, easy-going, and prized by butterflies; Wild Asters represent the simple joys we love on island. A floral inspired pallet and walking distance to community gardens and the Preserve, the Wild Aster is an idyllic cottage for those needing a daily dose of island flora. Walking distance to miles of spacious coastal views, and just steps away from afternoon dog walks with the kids, Cannonbury Lane's site design and amenities marry the best of the island's natural wonders in one location. Meet the beach at the end of your driveway by way of community-wide dunescaping and boardwalks that guide wheelbarrows to waves. Follow gentle undulations of sand and sea oats to the backside of the enclave for sunset yoga at the Field House. Deeded beach access, gorgeous community cutting gardens, and private entry to acres of lush flora ensure that season on Sconset actually feels like summer.
Great Point Properties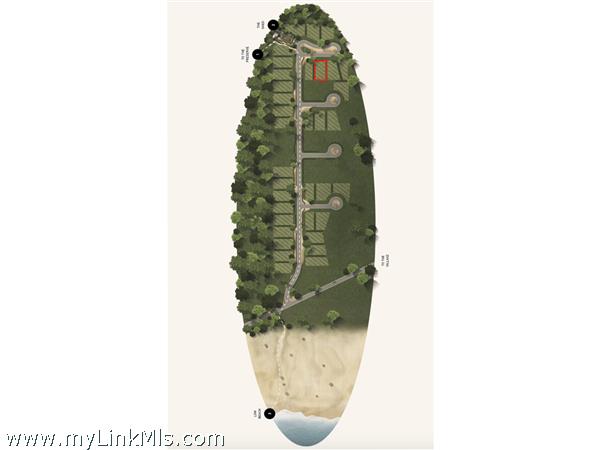 3 Reaper Circle
Sconset
$895,000
Bed: 0 Bath: 0
Four hundred acres of expansive conservation acreage surrounds a quiet street near the end of Low Beach Road. There one finds a rare opportunity on Cannonbury Lane: nature ensconced home sites promising coveted summer simplicity by way of a remote location, deeded beach access, and ready-to-build half acre lots. Walking distance to miles of spacious coastal views, and just steps away from afternoon dog walks with the kids, Cannonbury Lane's site design and amenities marry the best of the island's natural wonders in one location. Reach the deeded beach access at the end of your street by strolling the community-wide dunescaping and boardwalks that guide wheelbarrows to waves. Follow gentle undulations of sand and sea oats to the backside of the enclave to enjoy sunset yoga at the community gym and a private entrance to the acres of surrounding conservation land.
Great Point Properties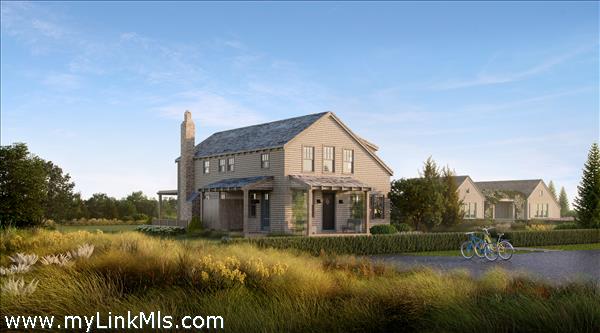 3 Westerwick Drive
Sconset
$2,995,000
Bed: 6 Bath: 4.5
Lavender House – The Lavender House's gentle hues and airy design channel the comforting aura of an herb known to heal and restore. Breezy views and wrap around porches are complimented by brushed bronzes and wood finishes, with touches of pale lavender offering a sense of natural ease and tranquility. Walking distance to miles of spacious coastal views, and just steps away from afternoon dog walks with the kids, Cannonbury Lane's site design and amenities marry the best of the island's natural wonders in one location. Meet the beach at the end of your driveway by way of community-wide dunescaping and boardwalks that guide wheelbarrows to waves. Follow gentle undulations of sand and sea oats to the backside of the enclave for sunset yoga at the Field House. Deeded beach access, gorgeous community cutting gardens, and private entry to acres of lush flora ensure that season on Sconset actually feels like summer.
Great Point Properties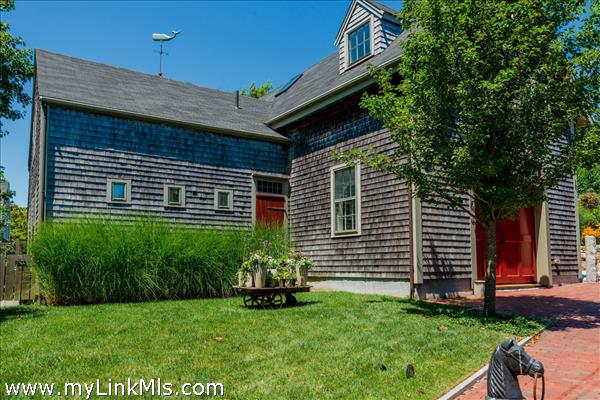 84 Center Street
Town
$4,875,000
Bed: 4 Bath: 3.5
A circa 1920s photograph in the Nantucket Historical Association archives depicts horses in the snow in front of Wyers Livery Stable. The stout little building, aptly named "Red Barn Door," is recognizable today – from the outside, anyway – with the original transom windows above the sliding barn doors and three perfect square apertures through which the equine residents used to peer out to the street. But not so when those doors open.
The structure, which dates from 1887, has been completely and boldly reimagined, the result of a masterful collaboration between the owner and island-based BPC Architecture Founding Principal Joe Paul. From the start, it was important to retain a sense of the building's original purpose while converting the space into a four-bedroom home that would be contemporary and sleek, but not at all cold. This was successfully achieved by retaining the open beams and exposed rafters in the interior (while inserting a steel "post and beam system" to fortify the historic structure and adding insulation on the exterior), incorporating design elements like sliding barn doors between the open living/dining/ kitchen and the bedroom wing, and using organic and natural textured fabrics throughout. Objects – an original 1887 plaque and branding irons – are mounted on the wall and call to mind an earlier era.
The home is equipped with Sonos and Nest systems. It is offered for sale furnished/turnkey with a list of excluded items (primarily artwork, personal effects, and gym equipment) available upon request.
Maury People Sotheby's International Realty
5 Wood Hollow Road
Tom Nevers
$1,495,000
Bed: 1 Bath: 2
Tucked away on 1.5 very private acres is a one bedroom house that is modeled after the book 'Building with Nantucket in Mind'. The house and property are waiting for the buyer who not only enjoys peace and solitude, but has a flair for the past while living in the present. There is a magnitude of expansion possibilities for the buyer who can look into the future.
Maury People Sotheby's International Realty
104 Baxter Road
Sconset
$4,775,000
Bed: 4 Bath: 6
'Sea Forever' aptly describes the view from the unique 2nd floor covered porch of this 2 parcel, oceanfront property that blends 'Sconset charm with modern amenities. This home had an extensive renovation in 2012. Beautifully sited on a lot with expansive lawn and gardens, this property affords you the opportunity to add a guest cottage and pool for your dream 'Sconset compound. Inside features separate sitting areas on the first and second floors, each with a fireplace, and cathedral ceilings on the second floor. Walk to the beach from the oceanfront lot by day, and enjoy panoramic ocean views from the second floor covered porch, or sunset and Sankaty Lighthouse views from the west facing deck by night.
Lee Real Estate
7 Coon Street
Town
$2,495,000
Bed: 4 Bath: 1.5
7 Coon Street is on a quiet street joining Orange and Union streets, steps from the Great Harbor Yacht Club and a short walk to the center of town. Originally built in 1848, the property has been completely renovated by Kristin Paton of Kristin Paton Interiors and Architecture by Christopher Dallmus of Design Associates (Nantucket Whaling Museum renovation). 7 Coon Street is an immaculately detailed beautiful 4 bedroom home with great outdoor entertaining space and off street parking. Off street parking enters onto a beautifully laid out bluestone patio with a wall of rich ivy and flanked by tall hornbeams trees that frame the backyard in lush green foliage. The patio is designed for entertaining with comfortable sofas and side chairs, dining area for 10 and an outdoor shower. The house is designed with French doors that open up from the beautiful kitchen directly into the outdoor entertaining area to create an indoor/outdoor great room feel.The home is meticulously laid out with high end finishes and architectural details and is extremely well organized to accommodate all the needs of a family on Nantucket. This home is ready for a stylish family to move into immediately!
J Pepper Frazier Co.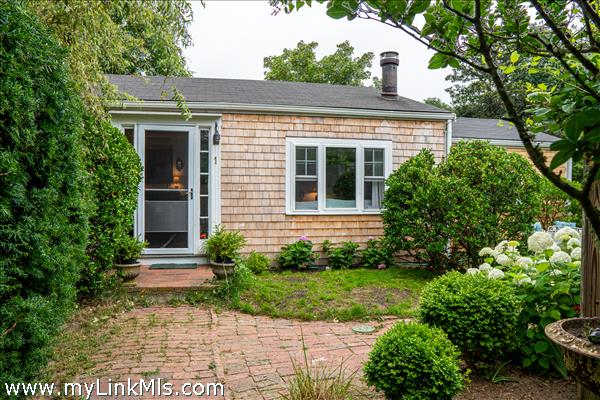 1 First Way
Mid Island
$1,289,000
Bed: 3 Bath: 1.5
Charming home in a very private mid-island location. This single story, light filled house has an updated kitchen and sunroom added recently.
Good rental history.
William Raveis Nantucket
17 & 19 Fairgrounds Road
Mid Island
$1,395,000
Bed: 3 Bath: 2
19 Fairgrounds Road is an oversized lot with a 3 bedroom house, 2-car attached garage and lower level with kitchen, full bath and 2-bedrooms. 17 Fairgrounds is a 10,017 square foot vacant buildable lot. 19 & 17 Fairgrounds are 2 separate parcels offered together.
Maury People Sotheby's International Realty
21 Lily Street
Town
$2,475,000
Bed: 4 Bath: 3
Nestled on quiet Lily Street, a five minute walk to downtown Nantucket shopping and restaurants and across the street from the Lily Pond conservation area, walking trails and boardwalk. The home offers all the modern conveniences with the charm of historic Nantucket. The home is fully air-conditioned with whole house Aprilaire filtration system, and has two off-street parking places. Great rental history.
Maury People Sotheby's International Realty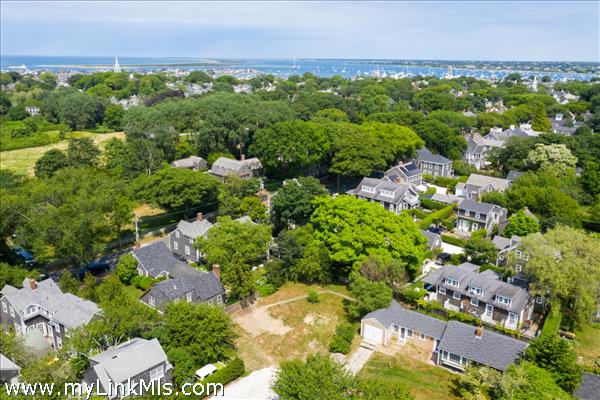 21B Vestal Street
Town
$1,295,000
Bed: 0 Bath: 0
Building Permit already issued! HDC-approved plans by renowned designer, Sophie Metz, are ready to be transformed into a
custom, brand-new 4+ bedroom home in an amazing location in Nantucket's Historic District. Or come with your own plans to build the perfect pied-à-terre in this park-like setting. Located down an idyllic drive that services only a few properties, this lot offers wonderful privacy, yet is only moments to Main Street.
Great Point Properties
2 Spring Street
Town
$3,250,000
Bed: 3 Bath: 4
One of the most charming and magical gardens in town. This house sits on an oversized double lot minutes to Main st and the Harbor.
The three bedroom four bath renovated home has off street parking for two cars, outdoor areas on both sides of the house for entertaining. First floor master suite, living room with fireplace, second bedroom ensuite, full bath, laundry, dining room
and kitchen. Second floor bedroom with view of pond and distant harbor and bath. Plenty of room for expansion and second lot.
William Raveis Nantucket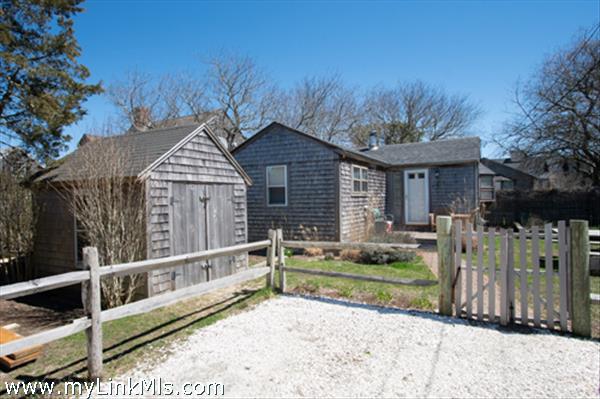 8 Lewis Court
Mid Island
$799,000
Bed: 2 Bath: 2
Two free-standing cottages situated on a quiet lane. Each cottage contains 1-bedroom and 1-full bathroom. Charming and private. Room for expansion. Zoning allows for the addition of another dwelling unit.
Maury People Sotheby's International Realty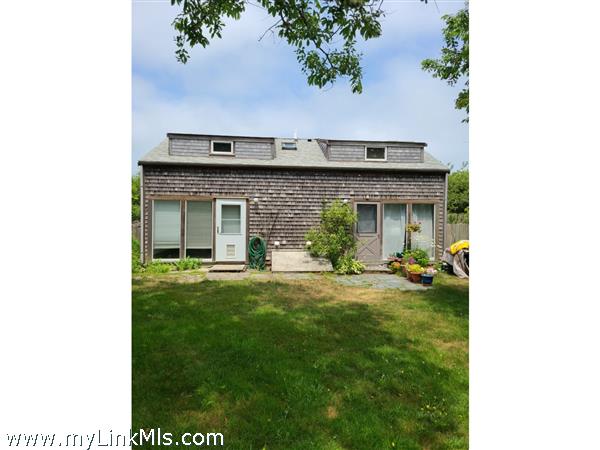 10 Lewis Court
Mid Island
$799,000
Bed: 2 Bath: 2
Side-by-side duplex with 1-bedroom and 1-full bathroom in each unit. Situated on a quiet lane. Room for expansion. Zoning allows for the addition of another dwelling unit.
Maury People Sotheby's International Realty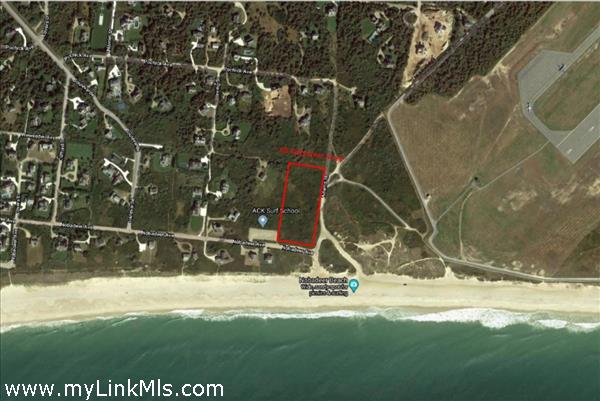 68 Nobadeer Avenue
Surfside
$2,999,000
Bed: 0 Bath: 0
This is a unique opportunity to build your dream home on this 2.3-acre lot moments away from this stunning South Shore (Nobadeer Beach). This lot is Zoned LUG 3 and R20 which gives your the ability to have over 5,052 sf +/- on the ground with dramatic first and second-floor ocean views. Access the beach via a path.
William Raveis Nantucket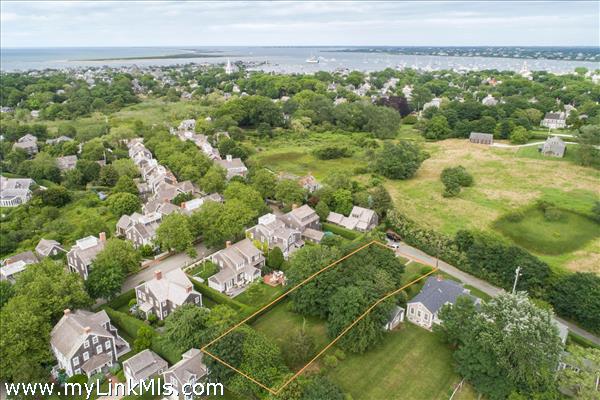 14 Lowell Place
Town
$2,995,000
Bed: 2 Bath: 2
Incredible opportunity to own an oversized parcel of land at the end of a quiet lane just moments away from Main Street. This 15,000 s.f. property is located in R-1 zoning and is comprised of two dwellings that predate 1955, offering the possibility for future subdivision. Whether two smaller parcels or one spacious property, this location allows for 30 percent ground cover and the option for a pool.
Fisher Real Estate
1 Bartlett Road
Miacomet
$450,000
Bed: 0 Bath: 0
SHORT SALE SUBJECT TO LENDER APPROVAL.
Staked building lot with town water and sewer connection available.
Maury People Sotheby's International Realty
26 Wigwam Road
Madequecham
$4,995,000
Bed: 4 Bath: 2
Seclusion and serenity are yours on this 3 acre property surrounded by hundreds of acres of conservation land with an expansive, uninterrupted 2nd floor view down the Wigwam Valley to the Atlantic Ocean. This lovely 4 bedroom 2 bath classic upside down house enjoys an estate setting offering a heated 60-foot Gunite salt water pool with cabana / bath house and cocktail bar. There is also an 165 sq.ft. art studio, and a 'nova Pro Aussie' synthetic grass tennis court with viewing gazebo and storage shed. There is plenty of room to add to the existing home, or build a new house using the remaining 2,500 sq. ft. of ground cover and existing 10 bedroom septic to create a fabulous family compound. The landscaping is impressive with privet hedges, stone walls and mature trees (beech, pin oak, cherry, stewartia). There is split rail fencing creating a paddock on the south east side of the property suitable for horses.
Compass Rose Real Estate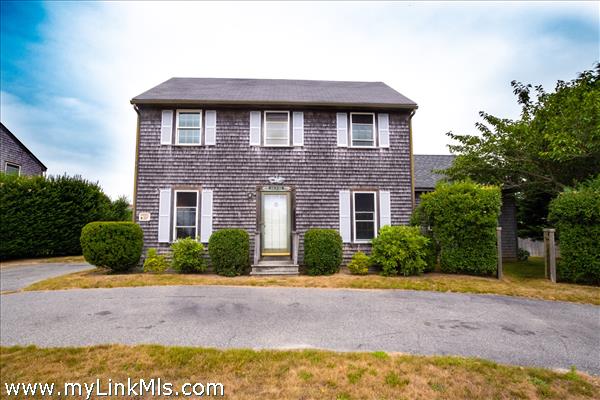 16 Bailey Road
Mid Island
$950,000
Bed: 4 Bath: 2
This large familly home features a newly updated kitchen with Corian countertops, new cabinets and stainless steel appliances. Located in a convenient location close to mid-island amenities, schools and bike paths, this is a great opportunity to get into a well-established neighborhood. There is expansion potential with approximately 1,350 square feet of ground cover remaining.
Great Point Properties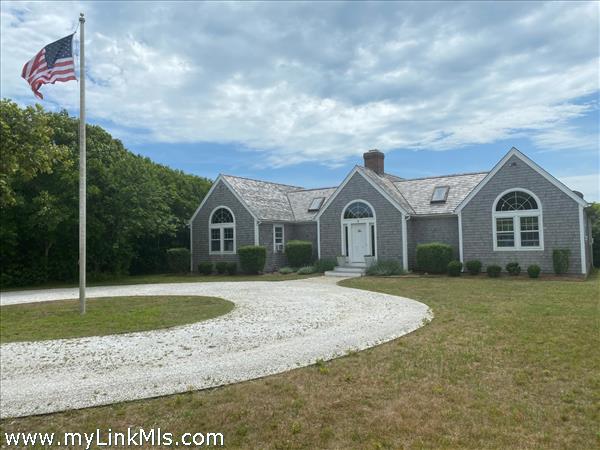 9 Longwood Road
Tom Nevers
$1,695,000
Bed: 3 Bath: 2
Drive down a private shell driveway to this charming 3 bedroom home with a circular turn around. The house boasts lots of light with an open floor plan encompassing the kitchen, dining, and living room with fireplace. Open the living room doors to a large back deck that runs the length of the house. The master has its own en-suite bath and a door leading out to the peaceful back deck.
At the other end of the house are 2 bedrooms that share a bath plus a laundry room.
Outside there is a slate path leading to a well built garage large enough for a car, kayaks, and storage.
Congdon & Coleman Real Estate
10 Pippens Way
Shimmo
$5,595,000
Bed: 6 Bath: 6.5
Gorgeous compound setting on nearly a one acre parcel of land with close proximity to beaches, harbors, and town. Modern and classic carpentry coupled with a seamless and open living, dining, and kitchen concept with buffet and service bar are perfect for entertaining. The main house offers 5 bedroom and 5.5 baths with both first floor master and guest suite. Lovely and inviting back covered porch to enjoy the 18×42 foot pool and spa surrounded by blue stone overlooking mature landscaping. The outdoor grill and covered dining area transition seamlessly to a pool cabana complete with a half bath and one of your two outdoor showers located on the property. Oversized 2 car garage with a secondary fully finished 1 bedroom and 1 bath dwelling complete with a modern galley kitchen providing a perfect guest retreat. Large shed on the back rear of the property allows for additional storage.
Maury People Sotheby's International Realty
9 Myles Standish Street
Surfside
$2,775,000
Bed: 4 Bath: 3.5
Special Surfside offering with water views, ocean breezes, and a barefoot walk to the beach. The oversized, 29,000 square foot lot offers expansion potential with approximately 3,625 square feet of allowable ground cover. The well-maintained upside-down house has multiple areas to enjoy the outdoors. A first floor covered porch which is completely private is a nice shady area to take in the ocean breezes. The second floor offers a spacious deck off the living and dining room with big sky and water water views. Spacious yard where you can add a pool and/or a garage and cabana. This location offers one of the most tranquil, sandy roads in the area, and one of the closest walks to the beach – even closer to the beach than some waterfront locations!
Maury People Sotheby's International Realty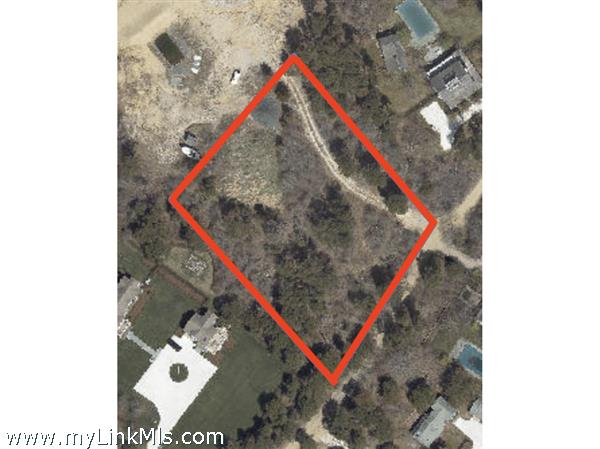 44 Brewster Road
Shimmo
$2,250,000
Bed: 0 Bath: 0
Over an acre of land in the highly desirable Shimmo estate area of the island. There is an opportunity to build your Nantucket dream house including a main house, pool, and cabana. Town sewer is ready to be tied in. Deeded harbor access via the Shimmo Association.
Lee Real Estate
4 Harborview Drive
Shimmo
$3,250,000
Bed: 0 Bath: 0
Opportunity abounds at this 1.2 acre parcel in Shimmo. Views of Nantucket town over the harbor provide the backdrop for your Nantucket dream home. There are existing plans for main house, guest house, garage, pool and cabana. Total GLA 5,938 sq. ft. Deeded harbor access via the Shimmo Association. Town sewer is ready to be tied in.
Lee Real Estate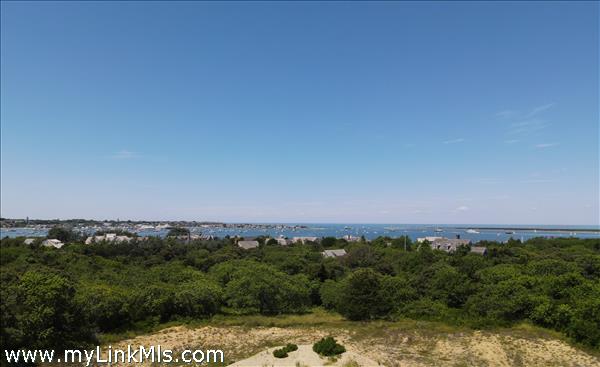 5 & 6 Harborview Drive
Shimmo
$6,800,000
Bed: 0 Bath: 0
One of a kind, spectacular estate site consisting of two parcels just under 3 acres with sweeping views to Town, Brant Point, and Nantucket Sound. There are existing Emeritus Ltd. plans available for a main house, guest house, pool, garage, apartment, and cabana/pool house. Deeded harbor access via the Shimmo Association. Town sewer is ready to be tied in.
Lee Real Estate
26B Evergreen Way
Mid Island
$479,000
Bed: 0 Bath: 0
Quality living within reach, and a cornerstone of the island's economic future, this property is part of Nantucket's newest development, Sandpiper Place. Conveniently located in the mid-island area, this property is close to nearby amenities yet tucked away on Evergreen Way, an established residential neighborhood. This property allows for single-family construction with a total of four bedrooms. A fifth bedroom is possible with an additional fee and approval from the Developer. Get started building your future today!
Fisher Real Estate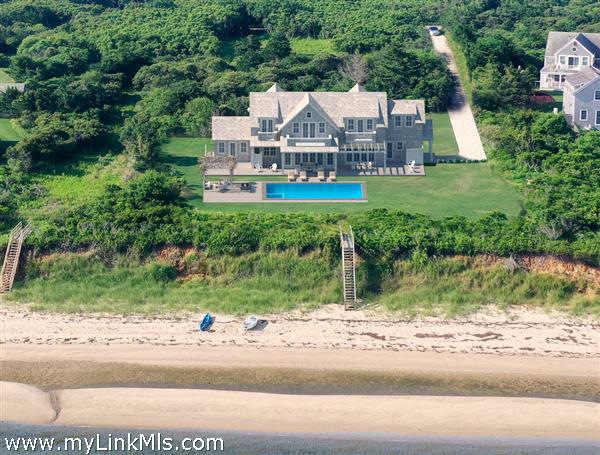 77 Pocomo Rd
Pocomo
$9,995,000
Bed: 5 Bath: 6.5
77 Pocomo is a unique opportunity given the scarcity of newly constructed and boat accessible waterfront properties available on Nantucket. This sophisticated beach front home located in the coveted Pocomo area offers 180-degree first floor water views of Nantucket Harbor, Coatue, and Great Point Light House. The property boasts stairs to a private sandy and pristine beach in secluded Wauwinet Harbor as well as a pool, spa and cabana allowing the owner to enjoy all the island has to offer directly from their backyard. Private beach access and the potential for a boat mooring provides convenient water access to enjoy all your favorite water activities whether it be boating, fishing, swimming, windsurfing, scalloping, or just enjoying a scenic cruise to historic downtown Nantucket or lunch at the neighboring Wauwinet Hotel. Thoughtfully executed by a premier Nantucket design team this contemporary beach home was developed to take full advantage of its waterfront location and stunning water views. 77 Pocomo's elegant charm converges with today's modern amenities and private water access to make for the ideal private family retreat.
Features include: Stairs to Beach, Gunite pool and spa, Cabana, Wolf professional kitchen, Covered deck, IPE Mahogany decking, Antique reclaimed natural oak beams and floors, Anderson Windows and doors including a 12 ft accordion door in the living room for unobstructed water views, Central air, Alarm system, Gas Fireplace, Sonos music system, Outdoor shower, and lovely landscaping.
J Pepper Frazier Co.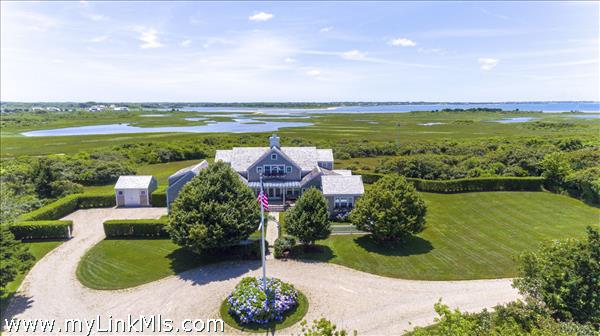 7 Weetamo Road
Pocomo
$6,950,000
Bed: 5 Bath: 7.5
All-encompassing and sweeping water views from this rare opportunity in Pocomo. This captivating waterfront property is perfectly sited capturing all of Polpis and Nantucket Harbor. The spacious five bedroom home offers tremendous first and second floor water views along with cherished deeded beach access. An open floor plan, two master suites, all ensuite bedrooms, multiple living spaces with gracious outdoor living make this the ideal retreat. Over an acre, an attached garage, additional expansion capabilities and potential for a pool. Take advantage of all Pocomo has to offer from this serene and unsurpassable waterfront property surrounded by Nantucket's natural beauty. The ultimate safe haven!
Maury People Sotheby's International Realty
Contact us for more information.