20 Nanahumacke Lane
Cisco
$3,695,000
Bed: 4 Bath: 5.5
This 4 bedroom, 5.5 bath property is located in Cisco at the end of a private cul-de-sac. Open floor plan, gourmet kitchen with top of the line appliances and entertainment systems like Sonos and Savant app controlled media make this house great for entertaining. High end finishes and built with full LED lighting throughout with great attention to detail. Short distance to Cisco Beaches, Bartlett's Farm, Cisco Brewery, Miacomet Golf, and 167 Raw Seafood. Connect to over 150+ acres of Massachusetts Audubon Society and Land Bank trails just minutes away.
Congdon & Coleman Real Estate
21 Nanahumacke Lane
Cisco
$4,295,000
Bed: 4 Bath: 5.5
Completed in spring 2019, this spectacular home is ready for generations of family enjoyment on the premier lot in this Cisco neighborhood. This state of the art 4 bedroom, 5.5 bath home is located in Cisco at the end of a private cul-de-sac. Enjoy the large open floor plan, gourmet kitchen with top of the line appliances such as a La Cornue Range and state of the art entertainment systems. Sonos and Savant app controlled media make this house great for entertaining. Climate is controlled by Ecobee Smart Thermostats operated by smart phone. High end finishes and well built throughout with full LED lighting show great attention to detail. Short distance to Cisco Beaches, Miacomet Golf, Bartlett's Farm, Cisco Brewery, 167 Raw Seafood, bike paths, shuttle stop. Connect to over 150+ acres of Massachusetts Audubon Society and Land Bank trails right from your backyard through the winding flower paths of private Nanahumacke Preserve acreage.
Congdon & Coleman Real Estate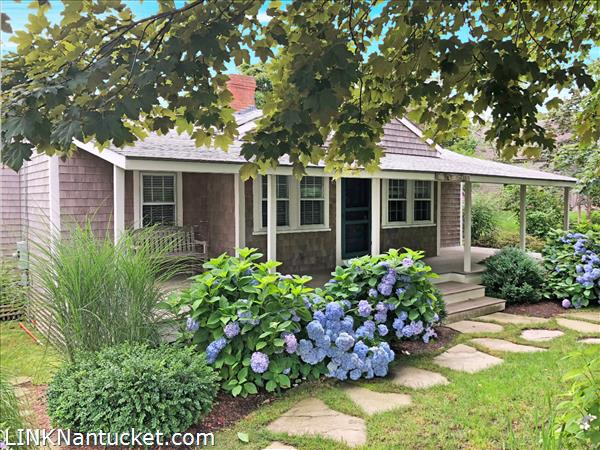 113 Wauwinet Road
Wauwinet
$1,795,000
Bed: 5 Bath: 4
Just steps away from the beach and a world-class hotel and restaurant, two side-by-side quaint, authentic Wauwinet cottages enjoy a premiere location. There are two bedrooms in one cottage, with a unique charm and wraparound deck, and three bedrooms in the other, which was recently renovated with newly installed central air-conditioning. Stone paths, mature shade trees and landscaping between the two cottages offer privacy and the option to live in one while renting the other. Drive an SUV to Great Point for a sunset barbecue, fishing, swimming and other water sports on the secluded easternmost point on Nantucket.
Atlantic East Nantucket Real Estate
1 Saccacha Avenue
Cisco
$6,495,000
Bed: 5 Bath: 4+
One of the best properties in Cisco. Excellent views from porch, patio and first floor! Even better from the second floor deck that looks across the conservation land to the beach. The property is protected along the North & West sides by Land Bank property and the sound of the island's best waves is another special element.
Lee Real Estate
Lot 29 North Mill Street
Town
$1,050,000
Bed: 0 Bath: 0
This generously oversized lot stand at the highest point of North Mill Street. Looking westward, the property offers a canvas of 3,250 square feet of ground cover to create the perfect Nantucket home.
Great Point Properties
Lot 28 North Mill Street
Town
$1,850,000
Bed: 0 Bath: 0
This property is a generously oversized lot in the Old Historic District. The location, above Mill Street and its array of open spaces, offers a historic Town location with a pastoral feel. With 3,500 sq. ft. of ground cover, there are tremendous design possibilities. The large lot will support wonderful outdoor space for gardens and lawn.
Great Point Properties
31 Pocomo Road
Pocomo
$3,895,000
Bed: 2 Bath: 1
Stunning harbor front property that has been in the same family for over four generations. The property has generous harbor frontage and offers beautiful views. Bass Point is out your front door! The site has gently rolling topography that leads to the water's edge. The land will support 2,100 square feet of ground cover and the existing cottage and outbuilding are pre-1955 and are being offered 'as-is'.
Great Point Properties
29 Pocomo Road
Pocomo
$2,175,000
Bed: 0 Bath: 0
Beautiful and pristine three-acre property with second-floor water views located on the paved section of Pocomo Road and moment's to Pocomo Point. The site offering privacy in an area of fine homes. The land can support about 3,600 square feet of ground cover and there are no wetlands and it is located outside MESA mapped habitats.
Great Point Properties
13 Sandsbury Road
Tom Nevers
$995,000
Bed: 0 Bath: 0
Beautiful sweeping ground floor views of Tom Nevers Pond and the Atlantic! Three bedroom septic system installed. The lot allows for 1,500 square feet of ground cover.
Great Point Properties
Lot 27 North Mill Street
Town
$2,500,000
Bed: 0 Bath: 0
This property is a uniquely large lot in the Old Historic District. The location allows a buyer to create a true in Town hideaway. With 4,000 sq. ft. of ground cover, there are tremendous design possibilities. The large lot will support wonderful outdoor space for gardens and lawn. This is a true one-of-a-kind offering.
Great Point Properties
23 West Chester Street # A
Town
$750,000
Bed: 1 Bath: 1
This adorable, in Town condo, is located on desirable Westchester St. and is in close proximity to historic downtown. The house has been certified as a historic home by the Nantucket Historical Association however has been thoughtfully renovated and divided into 6 high end modern units. The charming unit has an open floor plan, central AC, hardwood floors, and access to beautiful outdoor area for the exclusive use of the unit owners with a spacious yard, expansive brick patio, mature hydrangeas and trees. Sellers prefers a fall closing.
J Pepper Frazier Co.
28 Dukes Road
West of Town
$3,495,000
Bed: 6 Bath: 3.5
Well maintained four bedroom, two and one half bath house and two bedroom, one bath guest house all set on a beautiful private one-acre retreat setting. The long shell driveway opens to a sprawling green yard surrounded by stone walls, private pathways and lush landscaping. The main house features a two story entry and a side entry hall with laundry and half bath. Enter from the hallway into the open kitchen with granite counter tops, island seating and sun-filled dining area. Comfortable living room with a wall of windows overlooking the back yard, tall ceilings, gas fireplace and access to the shade of the covered porch. First floor master bedroom with tranquil master en-suite including soaking tub, double vanity and tiled stall shower. Second floor features three additional bedrooms and full hall bath with separate vanity and tub/shower. Steps out the side door is the entrance to the charming cottage. The cottage features one bedroom, laundry and access to the garage on the first floor and an additional bedroom, full bath and open concept kitchen, dining and living area on the second floor. Both the main house and cottage enjoy inviting outdoor patios surrounded by blue stone walls. Property has excellent rental history!
William Raveis Nantucket
Lot 26 North Mill Street
Town
$2,100,000
Bed: 0 Bath: 0
This large newly created lot sits high overlooking the Mill Street and the Historical Association Eleanor Ham Quad and surrounding Land Bank property. The lot has 3,500 square feet of available ground cover offering a myriad of design possibilities.
Great Point Properties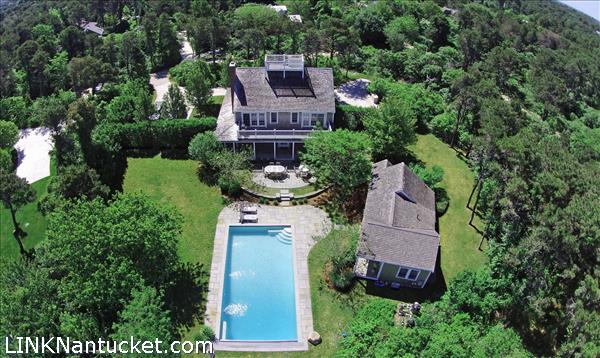 46 Brewster Road
Monomoy
$3,750,000
Bed: 5 Bath: 5.5
This private property with a 4-bedroom, 4.5-bathroom Main House and 1-bedroom, 1-bathroom Guest House could be your instant vacation getaway, while being only a few miles from town! Conveniently located first floor bedrooms, in addition to the open floor plan with well-appointed kitchen on the second level, make this custom-built home very functional. The beautifully landscaped yard with a private salt water pool, outdoor shower, seating area and ample parking are the perfect combination for entertaining guests or just simply enjoying a sunny summer day! This home currently has a mooring in Monomoy Harbor down the street, that may be renewed by the new owner.
Berkshire Hathaway HomeServices Island Properties
Lot 39 Cannonbury Lane
Sconset
$895,000
Bed: 0 Bath: 0
Four hundred acres of expansive conservation acreage surrounds a quiet street near the end of Low Beach Road. There one finds a rare opportunity on Cannonbury Lane: nature ensconced home sites promising coveted summer simplicity by way of a remote location, deeded beach access, and ready-to-build half acre lots.
Walking distance to miles of spacious coastal views, and just steps away from afternoon dog walks with the kids, Cannonbury Lane's site design and amenities marry the best of the island's natural wonders in one location. Reach the deeded beach access at the end of your street by strolling the community-wide dunescaping and boardwalks that guide wheelbarrows to waves. Follow gentle undulations of sand and sea oats to the backside of the enclave to enjoy sunset yoga at the community gym and a private entrance to the acres of surrounding conservation land.
Territory Real Estate LLC
24 Woodbine Street
Surfside
$2,795,000
Bed: 3 Bath: 3.5
This private property sits on over an acre of land toward the end of a quiet cul-de-sac in Surfside. Moments from south shore beaches with plenty of room for an additional dwelling, pool and/or tennis court, this property currently offers a 3 bedroom, 3 1/2 bath home with a full finished basement, comfortable living areas, a large wrap around deck as well as a double car garage with an unfinished space above for a potential artist's or yoga studio. Never been rented and meticulously maintained. The large manicured yard is a dream for those who love the outdoors (think family football games during the summer and over Thanksgiving weekend). A six bedroom septic is already in place.
Great Point Properties
Lot 31 Angola Street
Town
$1,700,000
Bed: 0 Bath: 0
This special in-Town location sits in the heart of the Mill Street quad, overlooking the Land Bank gardens. Nearly twice the size of the zoning, at 9,400 square feet and with 3,200 square feet of available ground cover, the property offers an array of design potential.
Great Point Properties
28 Main Street
Sconset
$2,295,000
Bed: 5 Bath: 3
Historic Main Street property located in picturesque 'Sconset Village. The house was built as the summer home in 1837 for Matthew Crosby and has since been owned by only three other owners. The Federal Style offers generous living spaces and the yard offers considerable outdoor space and expansion options.
Great Point Properties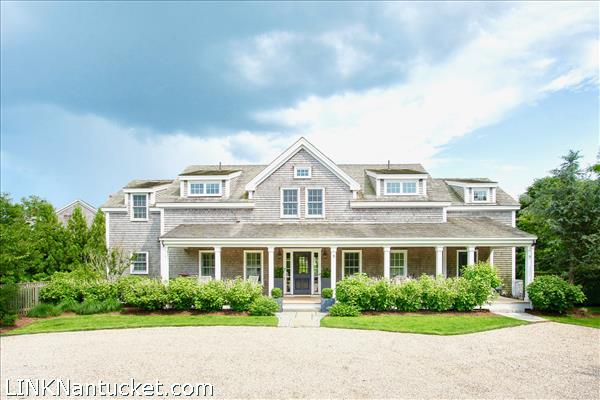 9 Old Westmoor Farm Road
Cliff
$6,795,000
Bed: 5 Bath: 5.5
Stunning Old Westmoor Farm Road property with fine details and exceptional gardens and outdoor living spaces. The main house boasts a gracious open floor plan that spills onto multiple outdoor spaces. The pool and spa and fire pit provide a fantastic setting and they are complemented by another area consisting of a covered rear porch with a wood burning fireplace and terrace and features a well equipped outdoor dining room and pergola covered outdoor kitchen – all overlooking a serene pond. This coveted shell lane offers easy proximity to Town, the Westmoor Club, and North Shore Beaches.
Great Point Properties
Lot 30 North Mill Street
Town
$1,650,000
Bed: 0 Bath: 0
This newly created lot is ideally situated looking across Historical Association and Land Bank open space to historic views of Mill Street. With 2,600 square feet of available ground cover, this lot is quietly tucked away in Town yet a perfect walk to Main Street. This property is one of the few remaining building locations in the Old Historic district and is an unparalleled opportunity.
Great Point Properties
27 Bank Street
Sconset
$2,750,000
Bed: 4 Bath: 2
Tucked behind mature privet is an updated 3 bedroom cottage and 1 bedroom suite offering sophisticated interior and exterior spaces including a French inspired garden with stone paths, decorative boxwoods and a spacious deck with wisteria covered pergola. The house is larger than expected with three sitting rooms and an open kitchen with dining area with door to the back garden. A detached guest suite with cathedral ceilings, a full wall of closets and a tiled bath offers a guests a wonderful separate space to call their own. The gardens are private and inviting, shown by The Garden Conservancy's Open Days Program, offering a restful spot for work or lounging. The property includes two Belgium Block off-street parking spots.
Lee Real Estate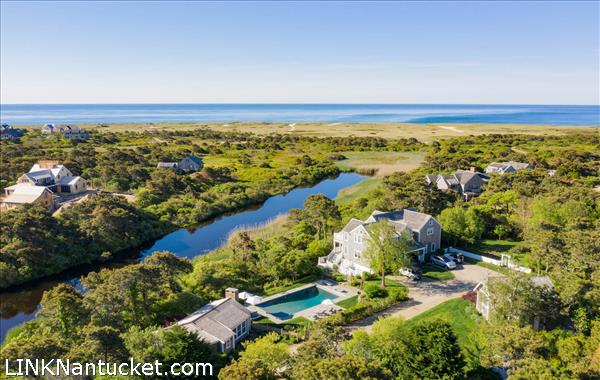 4 Morgan Square
Surfside
$4,750,000
Bed: 5 Bath: 6.5
Extraordinary water views and privacy set this estate property apart from others. Its Surfside location has privacy that's hard to find with a long winding driveway to this secluded compound.The two acre property has extreme expansion potential with over 3,470 sq ft of remaining ground coverage or subdivision potential. The property has a private pool, water views from most rooms and is a short distance to Surfside beaches.
Jordan Real Estate
2 Fisher Lane
Sconset
$9,975,000
Bed: 6 Bath: 6+
Privacy, Quality, and Luxury…the three words that distinguish this to-be-built offering at 2 Fisher Lane from all other homes within a similar price range. Creative architect Carrie Thornewill teams-up with uber-perfectionist builder Adam Ross to design a home with emphasis on creating a sustainable, low environmental impact home that offers a high level of luxury and comfort while boasting a 'this makes sense' attitude. The result is your very own destination resort, the type of home you daydream thinking…'can't wait to get to Nantucket' throughout your day. Plans currently include geothermal HVAC and solar panels (in back yard, not attached to home) as well as a pool and 2-car detached garage with roughed-out studio space on its upper level. The state-of-the-art technology of this home is designed to liberate you from, not ball-and-chain you to, this home. Not a 'Techie'? That's fine. The owner can call the very person who built the home, Adam Ross, with any operation issue that might arise. A booklet explaining in simple terms how this unique home will be available to its owner, truly simplifying all of its amazing systems. This area of Nantucket is coveted for its low light pollution, consequently, the night sky is like nothing you've seen before with a level of celestial drama unavailable elsewhere. Solar panels will be located away from the home to provide the lion's share of power to the home, storing excess power in safe, non-toxic batteries on-site as an alternative power source in the event of grid failure transitioning seamlessly in the event of power loss from the town. NOTE: 2 Fisher Lane is currently known as 101-B Low Beach Road. Its current name is in process of being changed. 101-B Low Beach Road is currently avail. as 'land and approved plans' without Adam Ross building the home. Search accordingly.
Lamacchia Realty Inc
2 Rudder Lane
Miacomet
$1,450,000
Bed: 5 Bath: 3.5
Lots of Space! In this sunny 5 bedroom, 3+ bath home conveniently located to Town and the south shore in a residential neighborhood. Large rooms, first floor master and expansive deck overlooking a backyard for fun and games. Two car garage with apartment on the second floor.
Atlantic East Nantucket Real Estate
10 Pilgrim Road
Cliff
$2,780,000
Bed: 4 Bath: 4.5
On a corner in the Cliff area this delightful home is bigger than it looks providing four bedrooms. Top finishes include wood floors, shiplap walls, custom cabinetry and storage. Private yard and deck accommodate outside activities and dining. Top quality kitchen appliances, tile and marble finishes in all four and one half baths. A gas fireplace and sound system with speakers throughout complement this turn key home. A short walk to Main Street, The Westmoor Club and conservation.
Jordan Real Estate
11 Davis Lane
Cisco
$3,195,000
Bed: 4 Bath: 3.5
Hot and Sought After Cisco! Located in the heart of Cisco, this 4 Bedroom, 3.5 Bath Beach House with 2-Car Garage is steps away from the south shore's most desirable beaches. Sited on a corner lot, this Neil Parent home design, with the main living on the second floor and multiple decks, provides lots of sunlight, breezes and pretty views of the ocean and the nearby conservation land.
Berkshire Hathaway HomeServices Island Properties
7 Meeting House Lane
Sconset
$2,525,000
Bed: 4 Bath: 3.5
Madaket sunsets in Sconset! Not be missed interiors coupled with fabulous outdoor living and privacy make this property a special retreat. Fresh and fully renovated, offering 4 bedrooms and 3.5 baths with sizeable living areas on both levels. Voluminous cathedral ceilings and large windows on the second floor house a gorgeous top of the line open kitchen with all the amenities required for entertaining guests. Double decks to enjoy the dazzling sunsets and pastoral views stretching over Sankaty Head Golf Club and beyond.
Maury People Sotheby's International Realty
45 Autopscot Circle # 45
Nashaquisset
$1,675,000
Bed: 5 Bath: 3.5
This rarely found five bedroom home has three levels of living space and is located in the white picket fence, family friendly neighborhood of Nashaquisset. A true gem with a fabulous floor plan and a sanctuary of a back yard, perfect for enjoying summer days. This property has an excellent and successful rental history, making it a great Nantucket investment. Nashaquisset is known for its convenient location just moments from downtown Nantucket, and has the added benefit of the nearby Surfside bike path offering easy access to south shore beaches and all mid island conveniences. Nashaquisset also offers all owners and guests use of a community pool and two tennis courts.
Great Point Properties
65 Tom Nevers Road
Tom Nevers
$2,295,000
Bed: 4 Bath: 3.5
This recently renovated 4 bedroom, 3.5 bath home in Tom Nevers combines classic Nantucket style with tasteful contemporary design. You will find indoor and outdoor living at its best with three spacious decks and a roof walk. The homes boasts panoramic ocean views and Sankaty Lighthouse can be seen in the distance. This home is ready for year-round fun!
William Raveis Nantucket
31 Washing Pond Road
Cliff
$6,495,000
Bed: 5 Bath: 5+
Fantastic Cliff location a walk away to one of the North Shore's most prized calm water beaches. This light bright and airy five-bedroom and five and one half bathroom Botticelli and Pohl designed home offers views of Washing Pond from the first floor and views of Nantucket Sound from the widow's walk. The gracious open living areas open onto the rolling lawn and gardens that overlook the pond. The two-acre site offers privacy and ample room for a pool plus the shared tennis court is moment's away.
Great Point Properties
24B Sankaty Road
Sconset
$1,849,000
Bed: 4 Bath: 2.5
Close to the village and an easy walk to the beach, this well appointed and thoroughly maintained home provides plenty of space for family gatherings. It is fully furnished and offers open living spaces complete with a built in dining area and newly updated kitchen. Private master suite on the first floor as well as 3 additional bedrooms on the second floor. Unique and custom details add character throughout this spacious home. Enjoy stunning views of the ocean and Sankaty Lighthouse from the roof walk!
Maury People Sotheby's International Realty
41 Jefferson Avenue # 201,202,203,204 ( Portion of 41 Jefferson Ave.)
Cliff
$27,250,000
Bed: 8 Bath: 8.5
The Ultimate Beachfront Family Compound.
The Beach House Residences at Cliffside is truly a one-of-a-kind property offering one of the most pristine beaches on Nantucket. Bring all your beach toys and enjoy this groomed beach with stunning views from sunrise to sunset. This exceptional property has four attached residences each with open living areas with patios and decks offering direct access to the sandy beach. Each residence has top of the line finishes, fixtures, and appliances, including marble counters, stainless steel appliances, wine fridges, under counter built-in microwaves, and washers and dryers.
Residence 201: 3 ensuite bedrooms, a spacious great room, dining and custom kitchen with wrap around windows for extensive views; stunning sunsets from upper and lower beachfront decks.
Residence 202: Open living, dining, and kitchen on the second level and has both a front and rear deck; 2 ensuite bedroom and laundry on the first level with a large beachfront deck.
Residence 203: 2 ensuite bedrooms with an open kitchen dining and living room, beach deck.
Residence 204: 1 bedroom suite with open living, dining, and kitchen.
These residences are ideal for extended or multi-generational families and guests.
All on a 1-acre parcel.
Great Point Properties
44 Fair Street
Town
$2,395,000
Bed: 4 Bath: 4
Located on one of the nicest historic streets in town, 44 Fair is a wonderful antique home with its original Victorian fenestration on the front facade. The house was built in the late 18th century and extensively renovated with an addition in 2000. Boasting bright and gracious rooms with a wonderful open and elegant floor plan that flows from the entry to the patio in back. There is a path around the house and french doors from the living space to a private in-town garden oasis. The two off-street parking spaces in the brick driveway are valuable assets!
Lee Real Estate
129 Polpis Road
Polpis
$6,395,000
Bed: 8 Bath: 8+
'Carpe Diem' is a wonderful, completely private property perched on a high hilltop overlooking the moors and Polpis Harbor and abuts literally hundreds of acres of conservation land. The Main House, was redone in 2011 from top to bottom and has many luxury features including marble throughout the kitchen and bathrooms, beautiful wood floors, two Master en suites, including a 1st-floor suite with a handicap-friendly bathroom, full sound system, wine cellar, gym and sauna. The property now boasts a new 40'x20′ pool with built-in spa and electric safety cover, blue stone surround, gas fire-pit and pool cabana. Enjoys views of the water from every level of the house and panoramic views can be enjoyed from the roof walk. Aptly named, Seize the Day is truly a special property!
Berkshire Hathaway HomeServices Island Properties
14 Hawks Circle
Sconset
$5,895,000
Bed: 6 Bath: 8.5
This extraordinarily built Sconset estate features a four bedroom, six and one half bath main house on three floors of finished living space, a two bedroom, two bath guest cottage, office space and a three car garage. The manicured gardens compliment the covered porches, the pergola covered decks and the 20′ by 40′ Pebble Tec pool with spa, pergola covered seating area, pool house with wet bar, half bath, shower and fire pit. This private and complete compound is located just minutes from the village of 'Sconset and is perfectly situated on a one acre lot adjacent to conservation land at the end of a cul-de-sac among mature landscaping.
Maury People Sotheby's International Realty
37 York Street
Town
$2,495,000
Bed: 5 Bath: 3.5
5 Bedroom home with off street parking and large private back yard in the Residential Old Historic District near the Wind Mill. Enjoy the charm and details of the updated circa 1920's 3 bedroom antique integrated with modern amenities of two -story two bedroom addition designed by Mark Cutone and constructed by Steve Cheney. The property borders open land owned by the Nantucket Historical Association where there is a path leading to the historic Wind Mill.
Maury People Sotheby's International Realty
Contact us for more information.