6 R New Lane / Ackermuck Way
Town
$2,695,000
Bed: 3 Bath: 2.5
Lovely property close to town and shopping. Minutes walk to upper Main St. Spacious patio with hot tub and flower gardens. New roof with architectural shingles in 2018, well for outside faucets.
Bamber Real Estate
12 Upper Tawpawshaw Road
Middle Moors
$935,000
Bed: 0 Bath: 0
One of the best and last remaining lots in Tetawkimmo. Abutting Nantucket Conservation Foundation property within the Middle Moors. The contour of the land creates a good opportunity to site the house with privacy and a potential walk-out lower level. The central green space within the Tetawkimmo neighborhood borders this quiet Upper Tawpawshaw cul de sac. 20% ground-cover per Special Permit. Town Water service with Zone B septic regulations.
Lee Real Estate
2, 4, 4.5 Cathcart Road
Monomoy
$14,995,000
Bed: 0 Bath: 0
This is a rare opportunity to acquire an 11+ acre property with spectacular harbor views. This Monomoy location is one of the most exclusive on island and is still located close to Town, shopping, and conveniences. Enter the private and serene setting from a highly elevated vantage point with rolling landscape spilling down towards the harbor front. Picture an impressive compound with main house, cottage, pool, and tennis court all taking advantage of a view that is a moving picture of Nantucket Harbor by day and dramatic sunsets by night. This offering can be subdivided into 3 significant but separate parcels. Optimize the current structures on the properties or start fresh with a brand new vision.
Lee Real Estate
2, 4, 4.5 Cathcart Road
Monomoy
$14,995,000
Bed: 4 Bath: 5+
This is a rare opportunity to acquire an 11+ acre property with spectacular harbor views. This Monomoy location is one of the most exclusive on island and is still located close to Town, shopping, and conveniences. Enter the private and serene setting from a highly elevated vantage point with rolling landscape spilling down towards the harbor front. Picture an impressive compound with main house, cottage, pool, and tennis court all taking advantage of a view that is a moving picture of Nantucket Harbor by day and dramatic sunsets by night. This offering can be subdivided into 3 significant but separate parcels. Optimize the current structures which include the main house & multi-car garage/cottage on the properties or start fresh with a brand new vision.
Lee Real Estate
7 Beach Grass Road (Lot 66)
Mid Island
$405,000
Bed: 0 Bath: 0
Welcome to Sandpiper Place, Nantucket's newest community of homes. Carefully planned with open space, community garden, nearby amenities and a lovely street-scape with parking off-street and out of view. 7 Beach Grass Road is one of only 4 duplex lots still available for purchase. This lot is a designated duplex lot allowing up to 6 bedrooms. Don't wait! Contact your agent today to arrange for a private tour of the grounds, a look at homes that are nearing completion, and a glimpse into what the future holds for this up-and-coming neighborhood. Representatives are available for consultation on the building process, pricing, and financing options to make your home-buying and building experience a success. Single-family home building lots are also for sale.
Maury People Sotheby's International Realty
9 Beach Grass Road (Lot 65)
Mid Island
$405,000
Bed: 0 Bath: 0
Welcome to Sandpiper Place, Nantucket's newest community of homes. Carefully planned with open space, community garden, nearby amenities and a lovely street-scape with parking off-street and out of view. 9 Beach Grass Road is one of only 4 duplex lots still available for purchase. This lot is a designated duplex lot allowing up to 6 bedrooms. Don't wait! Contact your agent today to arrange for a private tour of the grounds, a look at homes that are nearing completion, and a glimpse into what the future holds for this up-and-coming neighborhood. Representatives are available for consultation on the building process, pricing, and financing options to make your home-buying and building experience a success. Single-family home building lots are also for sale.
Maury People Sotheby's International Realty
11 Beach Grass Road (Lot 64)
Mid Island
$405,000
Bed: 0 Bath: 0
Welcome to Sandpiper Place, Nantucket's newest community of homes. Carefully planned with open space, community garden, nearby amenities and a lovely street-scape with parking off-street and out of view. 11 Beach Grass Road is one of only 4 duplex lots still available for purchase. This lot is a designated duplex lot allowing up to 6 bedrooms. Don't wait! Contact your agent today to arrange for a private tour of the grounds, a look at homes that are nearing completion, and a glimpse into what the future holds for this up-and-coming neighborhood. Representatives are available for consultation on the building process, pricing, and financing options to make your home-buying and building experience a success. Single-family home building lots are also for sale.
Maury People Sotheby's International Realty
8 New Street
Town
$1,275,000
Bed: 2 Bath: 2
Charming, historic home located on a quiet street just a short distance to Main Street and offers convenient access to mid-island shopping. This adorable property has two plus bedrooms, two full bathrooms, off-street parking, and a private rear yard that gets lovely southern exposure. Four heating & cooling mini-split systems. This home is registered with the Nantucket Historical Association: Joseph Chase 2nd-mariner. Seller prepared for a quick close.
Berkshire Hathaway HomeServices Island Properties
2 Shore Road, Part of 2 Francis
Town
$3,250,000
Bed: 4 Bath: 4.5
Hidden estate with Harbor Views. Unique quarter acre in town property with main house and garage studio. Built in 2006 to a high standard, this beautiful home has quality features throughout. Dramatic central stairs with stainless details and a stone fireplace are some of the special features. Custom cherry kitchen cabinetry and built-in office desk and casework. Expansive decks, a huge yard and room to expand. The home is surrounded by open space that provides natural light to all of the rooms and creates privacy unseen in downtown Nantucket. Set far back from the street, you've driven by this a thousand times and never seen it…Surprisingly quiet setting.
William Raveis Nantucket
17 Beach Grass Road (Lot 61)
Mid Island
$405,000
Bed: 0 Bath: 0
Welcome to Sandpiper Place, Nantucket's newest community of homes. Carefully planned with open space, community garden, nearby amenities and a lovely street-scape with parking off-street and out of view. 17 Beach Grass Road is one of only 4 duplex lots still available for purchase. This lot is a designated duplex lot allowing up to 6 bedrooms. Don't wait! Contact your agent today to arrange for a private tour of the grounds, a look at homes that are nearing completion, and a glimpse into what the future holds for this up-and-coming neighborhood. Representatives are available for consultation on the building process, pricing, and financing options to make your home-buying and building experience a success. Single-family home building lots are also for sale.
Maury People Sotheby's International Realty
111 Hummock Pond Road
Cisco
$1,695,000
Bed: 2 Bath: 2.5
Custom 2 bedroom, 2.5 bath home in the Cisco area.  Only high-end materials and craftmanship were used throughout including Icynene insulation, Rinnai on demand hot water and much more.  House has an open feel with two large sliders leading to back deck that has great pastoral views.  Well landscaped and irrigated (with well) yard and plantings.  Abuts Land Bank property on two sides and Bartlett Farm property across the street.  Ready for summer occupancy!
J Pepper Frazier Co.
14 Moors End Lane
Polpis
$2,595,000
Bed: 4 Bath: 3.5
'MOORELAND'……a perfect name for this very beautiful setting abutting hundreds of acres of Conservation Land with access to dozens of trails through the Middle Moors around Altar Rock. From the screened-in-porch and the second floor, there are views of a deep kettle pond and extensive protected land. The property has wonderful Southeast exposure, HDC-submitted plans for a 20 X 38 swimming pool and features 4 bedrooms and 3.5 baths. Sellers recently connected to Town Sewer and the roof was replaced in 2020. Room for expansion or additional structures. Current footprint is 1,536+/- sq. ft. and allowable footprint is 3,405+/- sq. ft. New fuel tank 2020, exterior trim painted in 2019 and water pressure tank and filtration systems replaced in 2019/2018.
Jordan Real Estate
6 Seven Mile Lane
Sconset
$2,995,000
Bed: 3 Bath: 4
Enjoy all Sconset has to offer with this well maintained home in an estate setting. With it's stateley private shelled driveway, mature landscaping, and covered porch, this property exudes classic Sconset charm. Abutting acres of conservation, this property offers a sense of serene privacy and second floor views of the moors and distant ocean. Wraparound porch, patio and yard perfect for entertaining and lawn games. A short walk or quick bike ride to downtown Sconset – with its wide sandy beaches, world-class restaurants, walking trails, and the famous 'Sconset Market. A golfer's dream! Access to public golf course directly across the street. Imagine the possibilities – ground cover remaining, HDC-approved pool plans and an established rental history. Sold fully furnished. An idyllic Sconset retreat.
J Pepper Frazier Co.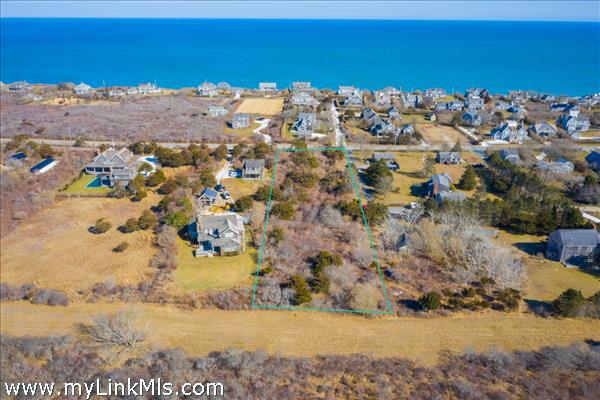 62 Sankaty Road
Sconset
$1,625,000
Bed: 0 Bath: 0
One acre of vacant land 62 Sankaty Road is located in the village of Sconset. The allowable ground cover is 5,717 square feet. The property has access to town water and town sewer is available at Meeting House Lane. Build your family compound with main house, guest house, and pool.
Great Point Properties
Contact us for more information.