36 Easton Street
Brant Point
$12,365,000
Days on Market:
Bed: 6 Bath: 5.5
Located in the heart of beautiful Brant Point, 36 Easton Street offers panoramic views of Nantucket harbor and beyond. The classic antique harbor front home has several outdoor areas to relax and enjoy the sunrise and boating activity. Located just a short distance to Main Street, ferries, restaurants and fine dining, this is a perfect summer home.

6 Center Street
Sconset
$1,800,000
Days on Market: 9
Bed: 2 Bath: 2
Renovated Sconset home overlooking Pump Square in the heart of Sconset village. Just moments from the amenities of town and the Sconset beach.

2 Center Street
Sconset
$1,800,000
Days on Market: 9
Bed: 3 Bath: 1.5
Antique Sconset home prominently sited in the heart of Sconset village. The beach and the amenities of the village are just steps from the door. This is Sconset Village living at its best. This charming, authentic whaling house was built in 1814 and renovated in 2011 with attention to detail.

7 Hinckley Lane
Cliff
$23,500,000
Days on Market: 0
Bed: 5 Bath: 6+
An opportunity like no other to own a completely unique private compound with multiple dwellings in the highly sought after Cliff neighborhood. The house offers close proximity to Hinckley Beach and the Westmoor Club, while also being an easy bike ride to town. In contrast to typical Nantucket architecture, the home is extremely modern, and all rooms look directly into a stunning courtyard complete with an infinity pool.

10 Angola Street Lot 2
Town
$1,795,000
Days on Market: 23
Bed: 0 Bath: 0
This coveted location in Town offers an oversized 7,331 square foot lot that is situated on a quiet lane in the Residential Old Historic District. Rare opportunity and great investment to own a vacant conforming lot in the Residential Old Historic.

1 Old Tom Nevers Road
Tom Nevers
$2,000,000
Days on Market: 13
Bed: 3 Bath: 2.5
Being sold mostly furnished, with some exceptions, this turnkey home has excellent rental income and is in a great Tom Nevers location. Close to the beach with second floor water views, it has been well maintained and recently updated. There have been many improvements made by the current owners. 2021 gross income is over $95K. Sellers are looking for a Fall closing no earlier than mid-October.

5 Stone Post Way
Sconset
$5,000,000
Days on Market: 43
Bed: 5 Bath: 5.5
Nestled on a charming cul-de-sac in Sconset on a quiet and sought after location. Enjoy all this home has to offer including two dwellings, attached garage, full unfinished basement, along with second story sea views on a half acre lot. Main house offers a total of 4 bedrooms and 4.5 baths and a first floor master suite along with a secondary master on the second floor. Cottage is ideally located at the rear of the lot and offers a full kitchen, private deck, and full bath. Property has fantastic rental income at over 250K and is being sold partially furnished. Ideal location for a pool.

4 Longwood Drive
Tom Nevers
$2,512,500
Days on Market: 47
Bed: 4 Bath: 3.5
'Flying Cloud' sits high and proud on this private 2.75-acre parcel. Lovingly maintained by its original owners this 4-bedroom, 3.5 bath home is being offered fully furnished. Light and bright with numerous indoor and outdoor areas for gatherings with family and friends. Room for expansion and a pool.

3 Deacons Way
Cliff
$6,995,000
Days on Market: 0
Bed: 6 Bath: 6.5
Located just off Cliff Road overlooking Washing Pond, this spectacular custom built home blends superior construction and design with expansive, yet private outdoor spaces. This house and two car garage with studio above sits on nearly two acres, abutting conservation land. The interior boasts clean lines with seamless integration with the outdoor spaces. As you enter, you are drawn to the French doors which offer a clear vista of the multi-tiered outdoor areas. Featuring multiple living levels, this beautiful Nantucket summer home boasts dining/outdoor kitchen mezzanine, large pool and spa with meticulously landscaped grounds.

32 Autopscot Circle # 32
Nashaquisset
$1,849,000
Days on Market: 14
Bed: 4 Bath: 4.5
This 'Gardner Street' style home is one of the largest homes in the nationally acclaimed community of Nashaquisset. Three full levels of spacious living in a well maintained home that boasts one of the most private yards plus a large screened porch. Practical features such as a first floor master suite, central air conditioning, and three separate living areas make this a perfect summer escape or a comfortable year round home. On-site services and amenities include professional landscaping, a large L-shaped pool, 2 Har Tru tennis courts, and property management. Even the master insurance on the house is covered in the annual fee. Centrally located just on the edge of Town and off the Surfside Bike Path. The buyer's contribution to the Nashaquisset Working Capital Reserves is 0.35% of the purchase price.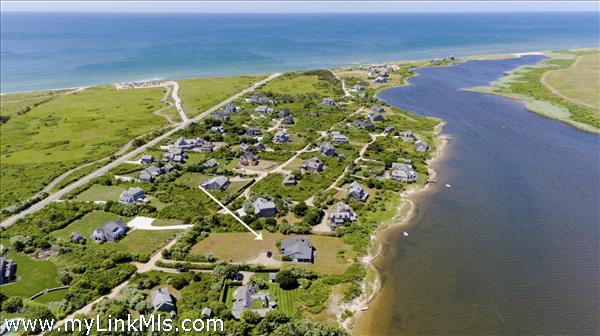 11 Osprey Way
Cisco
$6,525,000
Days on Market: 3
Bed: 3 Bath: 2
C I S C O
A very special Cisco property located at the widest point on Hummock Pond offering peace and tranquility with panoramic views across the picturesque Hummock Pond to acres of protected land on Sanford Farm and Ram Pasture.
Nestled in off a quiet sandy road in Cisco, this beloved home was designed with a balance of open spaces to capture the views and allow for casual summer living. The house is perfectly sited to bring the outside in featuring walls of windows and doors that capture the panoramic views across Hummock Pond. This property is situated on 1 acre of land and has a front-row view of all that nature has to offer. Among the highlights are the welcoming outdoor living spaces that include a generous deck suited for entertaining, a grand lawn area, and direct and easy access to Hummock Pond. Enjoy paddle boarding, sailing, fishing, kayaking, bird watching, or simply relish in a breathtaking sunset from one of the most magnificent locations on the Island. Just a short distance to Cisco beach, bike path, 167 Raw, Bartlett Farm, and Cisco Brewery, this rare 1-acre parcel property offers many exciting expansion possibilities for the next generation of owners. A zoning change for Osprey way as of March 1, 2022, will convert the current zoning to VR allowing 10% ground cover. Potential for a 6 bedroom IA system and swimming pool. This is a must-see property in the highly sought-after Cisco neighborhood.

9 Tashama Lane
Mid Island
$1,300,000
Days on Market: 45
Bed: 3 Bath: 2
Meet your new Nantucket home! This turnkey 3 bedroom and 2 bath house sits on a mature and beautifuly landscaped lot; A wonderful outside space to enjoy coffee and cocktails! This fully renovated home features an open kitchen and living room with granite and stainless appliances. Renovations include a new kitchen and bathrooms, new HVAC system, new roof, new windows, new hardwood floors throughout. The quiet neighborhood is within reach of all that Nantucket has to offer. The bike path gives easy access to town and Surfside Beach.

2 Cabot Lane
Cliff
$3,800,000
Days on Market: 72
Bed: 5 Bath: 4
THREE HOUSES ON THE CLIFF: Fantastic location on a private hedged-in oversized lot. Short distance to Steps Beach and town. Antique main house circa 1884 with two sweet cottages located on Cabot Lane, just off of Cliff Road. Potential subdivision.

94/21 Tuckernuck
Tuckernuck
$1,900,000
Days on Market: 49
Bed: 3 Bath: 1+
A rare opportunity for ownership on the enchanting and elusive Tuckernuck; this five-acre escape, only accessible by boat, encompasses three well-maintained structures run entirely off-grid. Well-water, generators, and solar panels keep up with modern demands for your piece of this transportive little island off of Nantucket's west end. Secluded, but not isolated, this property affords an unmatched level of peace and privacy one would be hard-pressed to match on the main island of Nantucket.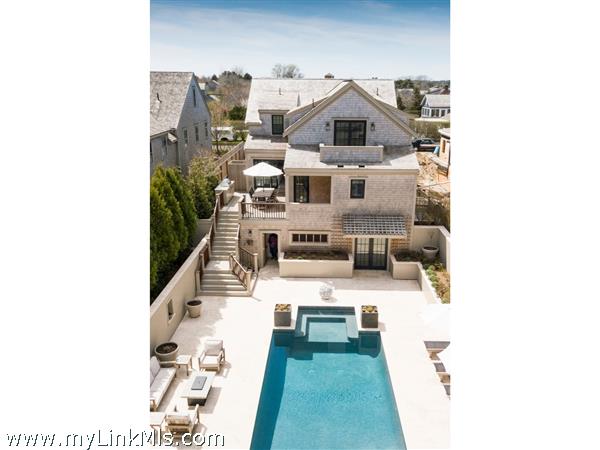 2 Winn Street
Town
$6,250,000
Days on Market: 100
Bed: 7 Bath: 6+
This family compound has it all! Close proximity to town, 5 bedroom, 5 ½ bath main house, 2 bedroom, 1 ½ bath cottage, expansive pool and patio, fire pit, sunny deck, outdoor kitchen with pizza oven and numerous living areas. Two Winn Street's thoughtful design and superior construction provide the perfect venue for large gatherings and family enjoyment!

8 Ash Street
Town
$4,395,000
Days on Market: 43
Bed: 5 Bath: 2+
Completely restored and in impeccable condition, this five bay antique home is sited on a quintessential, quiet, cobblestone street. The oversized lot offers beautiful gardens, stone walls and patio, and allows room for expansion or the addition of a cottage/garage.
Traditional friendship staircase with formal entrance on Ash Street as well as frontage on Ash Lane, with off-street parking for 2 cars.

18 Center Street
Sconset
$1,300,000
Days on Market: 108
Bed: 5 Bath: 2.5
Step back in time and remember the early days of Sconset history at the Ivy Lodge said to date back to 1740 as one of the early whaling cottages. This antique home has been welcoming visitors for generations. Relax on the covered porch after a trip to Sconset village or a quick swim in the nearby ocean. Ivy Lodge offers a grandfathered duplex home with connected living spaces featuring two living rooms, two kitchens and five bedrooms with two and a half baths. This property is ideal for owners who would like separate guest quarters attached to their main dwelling.

6 Woodbury Lane
Town
$3,700,000
Days on Market: 377
Bed: 5 Bath: 5.5
Location!! Early 1800 antique home re-constructed and updated in a prime Nantucket neighborhood. Preserved character integrates nicely with the numerous modern upgrades. This gorgeous and expansive home boasts four bedrooms, four fireplaces, exposed beams, original paneling, wide Pine floors, and a separate garage studio with full bath. Excellent outdoor living with beautiful gardens and views of abutting open space.

56 Union Street
Town
$3,625,000
Days on Market: 500
Bed: 1 Bath: 3+
Well-established restaurant on the edge of town. 122 seats with outside dining; Parking for 26 vehicles. Housing component—One bedroom, one bathroom, spacious apartment above the restaurant. Also, 4 dormitory rooms that share 2 baths (ideal for kitchen staff) 50% Ground Cover, Lot Size 18,325 sq ft. Versatile Use – Outside of the Formula Business Exclusion District.

5 Heather Lane
Cliff
$22,250,000
Days on Market:
Bed: 6 Bath: 7+
This stunning home is one of the few remaining grand old summer 'cottages' on the Cliff. The house was fully renovated from the ground up in 2008 preserving the historic charm while offering all the luxuries expected in modern home. Four levels of finished living space include multiple areas for social or private spaces both inside and out. The proud location on Heather Lane has a private beach path and staircase.

67 Fairgrounds Road
South of Town
$315,000
Days on Market: 257
Bed: 0 Bath: 0
This 4,500 square foot covenant lot allows for 900sf of ground cover. Planning board approval pending. Lot bounds on plot plan are an approximation to be confirmed.

Contact us for more information.